Fits Early Pre 1980 Models -Direct replacement for rectangular box regulator
Works on most Early 116, 107, 114, 115 and early 123 models up to the end of the 1970s. This is a replacement for the Bosch rectangular voltage regulator (see image below) those cars that use an internal voltage regulator. If you alternator has a rectangular housing on the outside of the regulator then this is the correct part. DO NOT let anyone tell you to replace your alternator until you have inspected and/or replaced this inexpensive regulator. Even if your old alternator is working pull the regulator and inspect the brushes. If they are worn down short just replace it. This is the best RUN INSURANCE you can get!
Early Internal Square Voltage Regulator
$36.50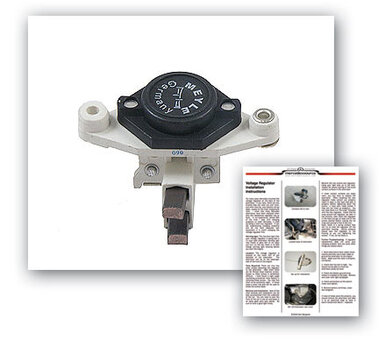 Product Details
IMPORTANT: I recommend you always carry a spare voltage regulator in the trunk of your Benz!
Picture of original style that you would be replacing: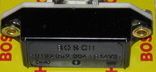 Sometimes it is very hard to get to the screws when the alternator is on the car. If yours is in a tight location recommend a right angle ratcheting screw driver if you don't have one.
One of the handiest small tools you can have
Great for working in tight places - like removing speakers, voltage regulators, distributor caps, etc.

Mercedes Benz Internal Alternator Voltage Regulator - Best Run Insurance by Kent Bergsma