Fits 601 602 603 190D 300D 300TD 300SDL 350SD 350SDL -- DO NOT FIT 123 CHASSIS!!!!
Fits 201, 126 (after 1986) and 124 four, five and six cylinder diesel to 1993. This kit should give you at least a year supply of fuel filters for your diesel. You will receive 2 main fuel filters, 3 clear plastic inline high quality pre-filters, and two main fuel filter o-ring set. Plan to carry the spares in your trunk.
Fuel Filter Kit 1984 to 1993 (Code 3)
$37.50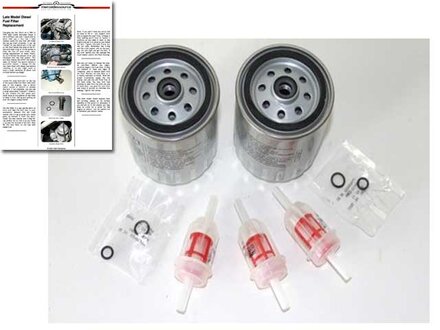 Product Details
I wish I had the time and space to tell you stories about all the diesel problems I have come across that ended up being just clogged fuel filters. I even bought a tired diesel once that the owner told me he was informed by his mechanic that it needed an engine overhaul, the car was very nice so I was prepared to do an engine transplant.I decided to do some testing and I changed the 2 fuel filters and the car ran great and is still running great 4 years later!
I tell my customers to put a travel survival kit in their trunks when they go on long trips. It is possible to pick up contaminated fuel out in the boondocks and you wont be able to find filters at the local auto parts store. Be sure and take the tools needed to change them. Once a friend of mine had the filters in his trunk with no tools. Late one night after fueling up he noticed a marked decrease in power. He struggled all the way home with partial full power. I changed the filters for him, and he was on his way again!! I have also found it is a good idea to change at least your main fuel filter right after doing the diesel purge. The purging process takes crud out of the injection pump and injectors and some of that ends up clogging the main filter.
Here are the varied symptoms of plugged up fuel filters.
Loss of acceleration.
Loss of high end speed. You might get up to 55 mph and the car just will not go any faster.
Abnormal smoking at idle and acceleration.
Rough running at idle.
Engine wants to stall when stopped with the car in drive.
Hard starting or wants to quit right after start up.
In this kit I am offering you two main fuel filters and three small inline prefilters. The prefilters will plug up first with junk or water. If you car is old (possible algae in tank) I like to change the prefilter every oil change and the main filter once a year (12,000 to 15,000). Remember if you get bad fuel they can be toast in no time at all. That is why I recommend carrying spare fuel filters in your trunk along with the tools you need to change them.. Have some nitrile or vinyl gloves with you too!
Includes PDF illustrated how-to instructions!!!
_______________________________________________________________________________
How to view the PDF digital instructions:
Once you complete the purchase of this product you will be able to download the digital instructions immediately when you are logged in and on your personal account page (click on My Account). Any PDFs will show up under My PDF Manuals. You will be allowed three downloads, so please save the file on your machine for backup.
_______________________________________________________________________________
Related Products:
---