Most models 1968 to 1995 with tubular sending unit inside the fuel tank.
If your fuel gauge stops working or is not reading accurately, many times it can be repaired by removing it from the fuel tank, taking it apart and giving it a good internal cleaning of the contact points, float shaft, and wires. It is very delicate so you have to be VERY careful when handling it. That is why Kent designed this kit with a very small brass cleaning brush and a special screwdriver to take the unit apart. 
Fuel Tank Level Sending Unit Service Kit w/ 2 Instructional Videos
$26.00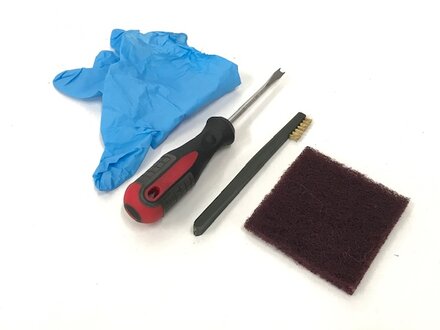 Product Details
The kit includes the following:
Specially modified screwdriver
Narrow head brass brush
Scotch Brite Pad
Pair of Nitrile gloves
Detailed video instructions cover taking the unit apart, cleaning and reassembly
NOTE ON THE INSTRUCTIONS: Information on accessing the sending unit in all models is not included in the video. If you are not sure where your sending unit is or how to get to it - just google it. We recommend our special big socket to aid in removal from the fuel tank ( this is the same socket that fits most fuel tank filter screens ) See related products below to order separately. 
Related Products:
---