This size freeze plug fits almost all gas and diesel engines from the early 70s up into the 90s. This includes all 61x and 60x diesel engines, the 103 gas engine in the 190E, 300SE and 300E. It also fits many V8 engines but you should measure your current plug to be sure. This part measures 34 mm in diameter.
Gas and Diesel Engine Block Freeze Plug
$1.50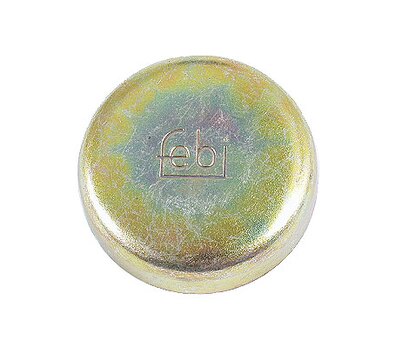 Product Details
We are seeing more freeze plugs rust out from the inside as these engines age. First sign will be a little rust ring around the outside edge of the plug, next sign will be slight coolant loss, and last sign may be catastrophic engine over heat. Check your freeze plugs for any sign of deterioration NOW.
Replacement Notes: The biggest problem with changing most freeze plugs is just getting to them. To remove old rusted plugs may require that you destroy them to get them out of the block. You can either drill or chisel a hole in the center and then pry it out.  Once removed, use sand paper to clean the block surface of the hole thoroughly. When installing the new plugs you a good gasket sealant  (ie permatex - NOT silicone!). Use a socket that fits in tight on the inside of the plug and tap it squarely in until it is flush with the block. If you end up driving it in sideways you can ruin the plug.  So my recommendation is to order one or two extra so you will have a spare on hand to try again! 
No instructions are included with the plug (s).