Extend the life of your power antenna by cleaning and regular lubrication
"I have heard some owners complain about the unreliability of those older Hirschmann power antennas. I would say that in at least 80 percent of the few hundred antennas I have taken apart that went bad - the reason was lack of lubrication!  When the mast does not get cleaned and wiped with lubricant on a regular basis it puts excess strain on the motor and the mast retract mechanism. Lack of  lube on the mast also helps to allow water to get down inside the antenna housing and that causes all kinds of problems."
Hirschmann Power Antenna Mast Cleaning and Lubrication Kit
$14.75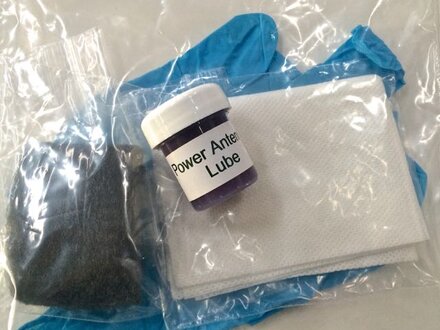 Product Details
When Kent set out to find the ideal lubricant he first had to study what Hirschmann provided in those little lube packets. The lube had to have good staying powers in heavy rain, had to have anti corrsion additives, had to be thin enough to work its way down inside the mast sections, and had to leave a long lasting film that would not attrack dust and road dirt. It became obvious that any type of petroleum lube was not going to work. Any type of silicone grease is just too sticky. Synthetic grease was the very best option. Our antenna lube is a combination mix of two types of synthetic lubricants with good additives to fight rust and loss of adhesion to the metal when exposed to the elements.
This kit contains the following:
1/2 ounce container size of special blended lubricant
Small piece of 000 steel wool to clean the mast
Pair of blue nitrile gloves
Lint free application cloth to apply lube (to be cut into six applicators)
 4 plastic bags to keep the kit clean and to store it in the trunk of your Benz
Free video instructions - watch above will NOT be delivered with purchase
Related Products:
---