Includes written instructions by Kent Bergsma. Have questions? Watch the video below:
 IMPORTANT NOTE: We do not sell replacement antenna masts by year and model. We have run across too many problems with confusion, interchangeability, and previously swapped antennas. We sell a SMOOTH TAIL mast and a TOOTH TAIL mast.
SMOOTH Antenna Mast Cable for Hirschmann Power Antenna W116 W123 W126
$27.50
Sale
$22.75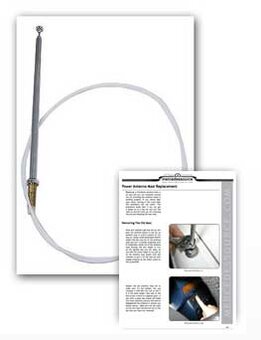 Product Details
As you will see in the video above smooth tails were used on most of the power Hirschmann antennas up to the early '80s that were encased in an aluminum housing. Tooth tails were used on the later masts from antenna motors that were incased in all black plastic housings. If you are not sure which one to order you can partially remove your current mast and inspect it. Determine if the plastic tail is round and fairly smooth or does it have teeth in it? The one sold here is the SMOOTH style. Look below to view the toothed style.
To inspect loosen the top small nut that holds the mast to the antenna tower. Pull up slightly on the antenna to inspect the tail. If it won't come up and your antenna is not working you may have to pull a little harder. If your antenna is working you can turn on your radio to run it up BRIEFLY.
If your antenna motor is running - but the mast is not going up all the way or retracting entirely back down it is a fair bet that a new mast will solve the problem. PLEASE keep in mind it may not solve all your antenna issues. There may be problems with the switching or motor inside the antenna. IF your motor is running our PDF instructions will show you how to easily replace the mast without removing the antenna body from the car or opening it up. You will be amazed at how easy the instructions are to read and follow.
_______________________________________________________________________________
How to view the PDF digital instructions:
Once you complete the purchase of this product you will be able to download the digital instructions immediately when you are logged in and on your personal account page (click on My Account). Any PDFs will show up under My PDF Manuals. You will be allowed three downloads, so please save the file on your machine for backup.
_______________________________________________________________________________
Related Products:
---