Covers most models from 1968 to 1995 - See list of applicable chassis in the description.
For all 107 108 109 114 115 116 123 126 201 and 124 Chassis 1968 to 1995 including those models that have a special cable installed to keep the transmission locked until the key was turned.
Ignition Steering Lock Removal and Replacement Manual - By Kent Bergsma
$19.95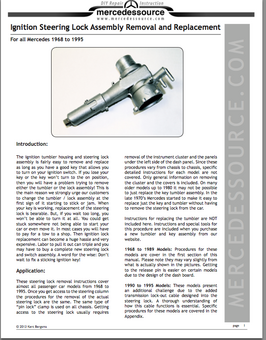 Product Details
This manual (21 pgs in  8.5x11 format bound with a heavy weight, smudge resistant, plastic cover on front and back), written by Kent Bergsma, will walk you step by step through the process of removing and replacing a Mercedes steering lock assembly. This can be a very frustrating job if you don't know some of the factory secrets. For anti-theft reasons the engineers designed it to be very difficult to remove!
And to make matters worse, if your key won't turn in the ignition switch, it can be near impossible the get the lock removed without pulling your hair out and spending a bunch of money. This manual includes a separate section in the appendix on emergency lock removal if you can not get your key to turn on. With the knowledge you gain from reading this manual you will be able to remove a lock assembly that does not have a key or one where the key will not turn. After removal just plan on having to buy a complete new unit with tumbler, new keys, and a new ignition switch. We offer complete units for those who have had to deal with a jammed steering lock.
PLEASE NOTE: This manual only covers the removal and replacement of the lock assembly as shown below. It does not include detailed information on removing and replacing the tumbler unit with keys. Those instructions come when purchasing a new tumbler.  Lock assemblies we sell that already have the key tumbler installed will receive this manual at no extra charge.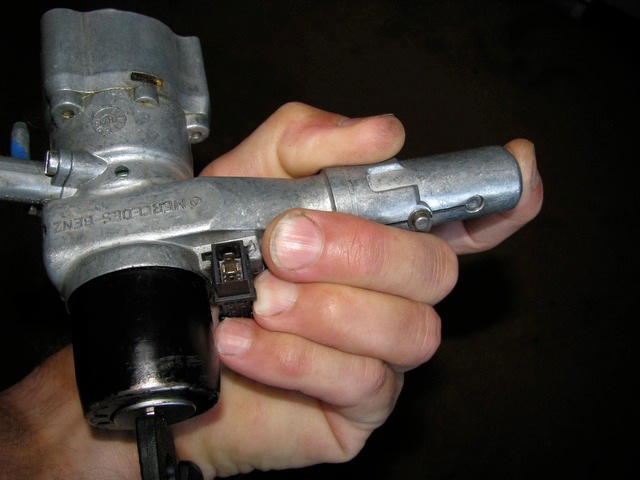 WARNING: If you are having difficulty turning the key in your ignition do NOT put off fixing the problem. If you do you may be extremely sorry you did not heed my advice. CLICK HERE to read more about what to do if your key starts to stick in the tumbler.
PLEASE BE AWARE REMOVING YOUR INSTRUMENT CLUSTER CAN BE DIFFICULT WITHOUT THE CORRECT TOOLS
Related Products:
---