All the fittings you need for Mercedes K-jetronic system hookups. No instructions on how to make it. But you will get Kent's instructions on how to use a pressure tester for free with purchase.
The best way to figure out why your K-Jetronic engine is not running right is to hook up a pressure tester and read both system pressure and control pressure ( cold and hot). The problem is most of the pressure testers you see advertised for cheap will not work on C.I.S. because they do not have the proper fittings ( nor a valve at the Tee). These fittings are what you will need to convert or make your own. You will have to splice into the cut hoses and learn how to make one ( find info on line)
K-Jetronic Pressure Tester Fittings to Make Your Own Tester
$28.00
SKU:
GEG-KJETTESTFITTINGS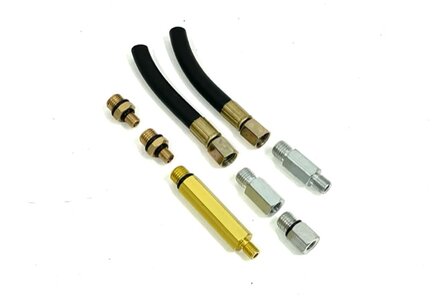 Product Details
The free on demand video included will NOT show you how to make one but Kent will show you how to properly hook one of to your engine and take accurate readings. This only works on engines up to 1985. It is not for KE-Jetronic. 
Related Products:
---