On these models the shock is separate from the air spring - and yes you can do it yourself!
This videos covers in detail the removal and replacment of the specialty rear shocks on a 2004 E500. Replacing these shocks are slightly different from removing standard shocks due to the extra electrical connection to the computer. But, it is not all that different and it can be done without requiring any computer reset at the dealer.
Mercedes W211 E500 Rear Shock Replacement - On Demand Video Instruction
$9.99
On Demand Video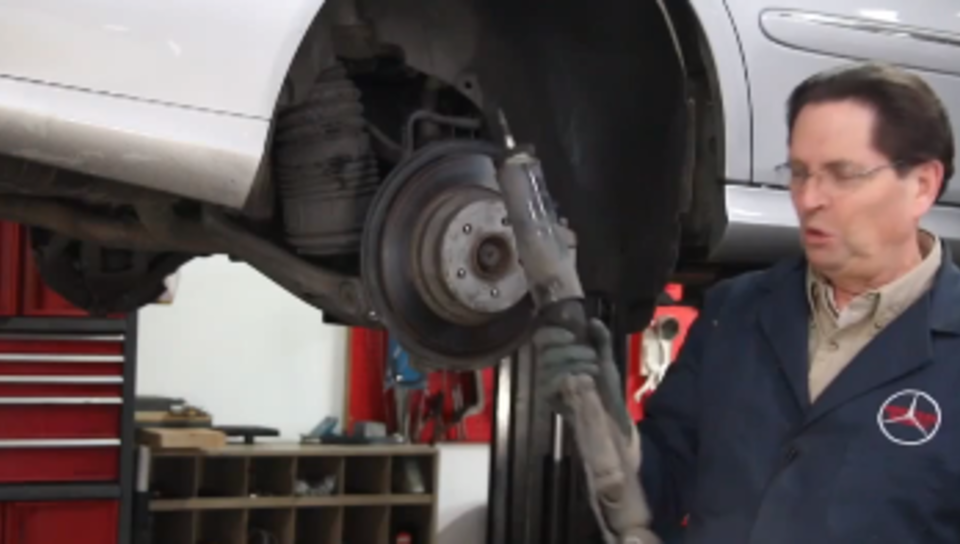 Product Details
The first sign that they need replacing with be visual fluid leaks running down on the lower part of the shock. If neglected you will begin to feel the ride quality get a little stiff and/or boucy, followed by some uneven wear on the rear tire tread. 
This video will show you how to replace these shocks yourself and save big $$$. The instructions are specific to the W211 chassis sedan with airmatic suspension. Some of the principles will apply the the station wagon with airmatic but access to the top of the shocks will be different. If you have a non-airmatic W211 some principles will apply. The job will be easier since you will not have the electrical cord to deal with.
Total Run Time: 14:01
---
How to view this on-demand video:
Once you complete the purchase of this video you will be able to view it immediately when you are logged in and on your personal account page (click on My Account). The video(s) will show up under My Video Manuals. The video is NOT downloadable to your computer or mobile device, but you will be able to view it anytime, from anywhere and from any device as long as you have internet access and you are logged in to your account at mercedessource.com.
Important note: This video manual may or may not include all the information you will need to troubleshoot and/or repair your specific problem/s. Please read the full description carefully to determine if this video is applicable to your year and model and contains the information you are looking for. If not, please refer back to our "Solutions Finder" and enter your chassis number and the specific problem you are having to see if we offer a solution.