Covers 1981 to 1991 W123 W107 and W126 with automatic climate control panel
If you have a 1981 to 1985 W123 300D, 300CD, 280E, 280CE, 300TD or a 1981 to 1989 W107 380SL, 560SL, or a 1981 to 1991 W126 380SE/L 300SD 500SE/L 300SDL 420SE/L 300SE/L 560SE/L 380SEC 560SEC that has automatic climate control this video manual will apply. These cars have a monovavle that controls hot coolant flow into the heater core. If you are having issues with no heat, heat all the time or inconsistent heat this valve may be the problem. BUT there is no guaranteed it is the only problem. This video will help you with the following:
Monovalve Heater Control Inspection - Installation - Testing - On Demand Video Manual
$9.99
Get it for Free! This is available as a free add-on item. Review the product details for bundle options.
On Demand Video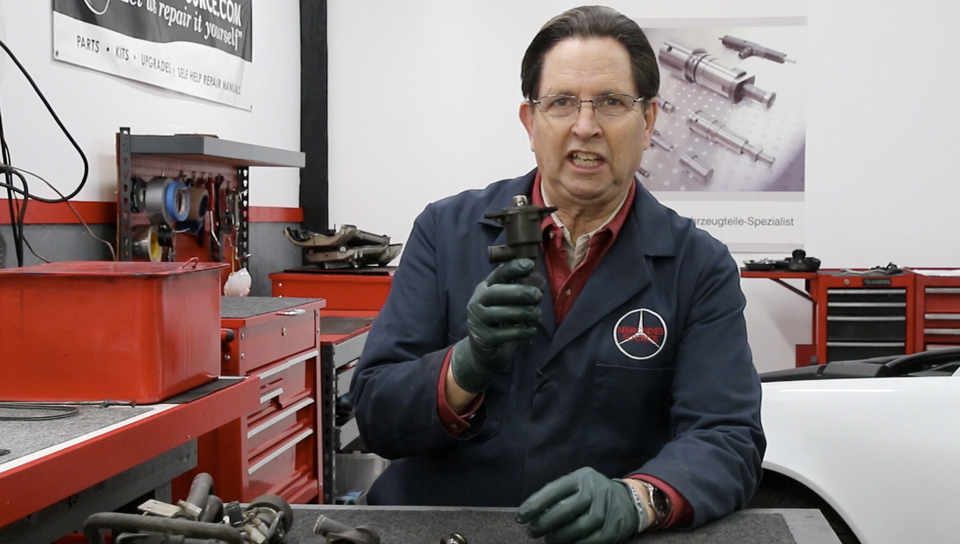 Product Details
What years and models use this type of mono valve

Where it is located
Types of problems associated with it
How to inspect it
How to remove and replace it
How to test it
Ways to get "emergency heat" or to clamp the heat off in the summer
Kent shows all the inspection and test procedures on the bench. He does not go over removing the monovalve housing from the car. That is just a matter of draining coolant and disconnecting all the hoses. (on the W126 chassis you will need to remove the forward false firewall). You only need to remove the monovalve housing if it is cracked or otherwise damaged. You do not need to remove the housing to replace the internal valve. Draining some coolant (about 1 gallon) will be required if you remove and replace the mono valve from your car. 
PLEASE NOTE: This video DOES NOT cover the following: No information is included that covers the automatic functions, the switch panel or power coming to the monovavle. If you replace the mono valve and are still have problems you will need to refer to the factory climate control manual for additional help. 
Total run time in minutes: 15:54
---
How to view this on-demand video:
Once you complete the purchase of this video you will be able to view it immediately when you are logged in and on your personal account page (click on My Account). The video(s) will show up under My Video Manuals. The video is NOT downloadable to your computer or mobile device, but you will be able to view it anytime, from anywhere and from any device as long as you have internet access and you are logged in to your account at mercedessource.com.
Important note: This video manual may or may not include all the information you will need to troubleshoot and/or repair your specific problem/s. Please read the full description carefully to determine if this video is applicable to your year and model and contains the information you are looking for. If not, please refer back to our "Solutions Finder" and enter your chassis number and the specific problem you are having to see if we offer a solution.