Works on the W108, W109, W114, W115, W116 (side trim only) and the W123 chassis
This is the best tool we have found to remove the chrome side trim strips and snap type door panels on may of the older models from the mid 1960's to the mid 1980's. There are other tools that will do the job but none that can do a better job of preventing damage to the side trim strips or those soft hard board type door panels with the straight "push in" white clips.  ( The W116 door panel does not use "push in" clips. 
Older Chassis Side Trim Strip and Door Panel Removal Tool
$18.95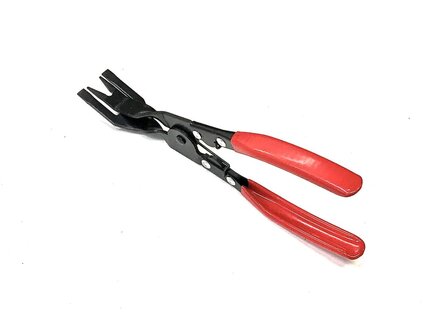 Product Details
Watch the video as Kent demonstrates the use of this tool to remove a side trim strip. You can use the tool in a similar fashion to pull the door panel away from the door without damaging it or pulling the clip out of the hard board backing. The second video will show you how to get the red clips off your side trim.
Note: If your door panel has gotten wet from water inside the door even this tool may not save it!!!
We also sell this tool with red clips and instructions as well as additional packs of 10 clips if you need extras. See related products below:
Related Products:
---