For W108 W109 W114 W115 W116 R107 and 123 WChassis
BACK IN STOCK NOVEMBER 2020!!! Includes 30 red plastic clips, a "new style" removal tool and detailed instructions. Note: The instructions included in this kit do not show the actual use of this "new tool". See video below for a quick demonstration. There are a number of reasons why you would want to remove the center side trim on your older Mercedes. You may just want to clean and detail behind them (it does get pretty dirty back there over the years). If you are repainting your car removing the side trim is a must for a quality job.
Side Molding Trim Clip Replacement Kit - set of (30) with Removal Tool and instructions
$32.50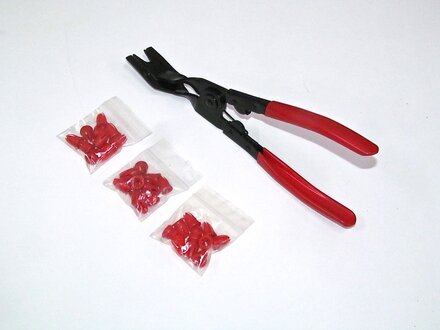 Product Details
There could be rust growing out of the holes on the back side of the strips (do not let this go - see my Miracle Rust Cure products). Or you may have one or more loose or damaged side strips. The biggest problem in removing these strips is that the plastic snap clips often come off with the strip hold down pins. If they do then they are very difficult to get off and hard to reuse. Over time the clip center holes enlarge and may become hard and brittle. If you reuse them your side trim may not fit up tight to the body. Best to just replace the red clips when the strips are off.
IMPORTANT NOTICE: In recent years the quality of these aftermarket clips has changed. We have found the clips are now being made with a harder plastic. We received some complaints from customers that they were difficult to install. In early 2017 we bought new clips from Mercedes Benz but during testing found these are too soft and they easily pull out of the holes even after a recent installation. So we are back to recommending these red clips. They are certainly better quality that what you can buy on eBay!!!. We have found our red clips are much easier to install if you soften them first. That can easily be done by PUTTING THEM IN HOT WATER for a few minutes right before you install them. Then install the trim immediately.
We also sell these clips in 10 packs and the tool separately. See related products below:
_______________________________________________________________________________
How to view the PDF digital instructions:
Once you complete the purchase of this product you will be able to download the digital instructions immediately when you are logged in and on your personal account page (click on My Account). Any PDFs will show up under My PDF Manuals. You will be allowed three downloads, so please save the file on your machine for backup.
_______________________________________________________________________________
Related Products:
---