Learning how to do this yourself could save you hundreds of dollars $$$$$$$$$
If you have a Mercedes of this era equipped with an impulse code reader you will find a little numbered black box similar to the one in the pictured here in your engine compartment. It is located over by the battery and may have a black cover on it that can be lifted off. This is referred to as an OBD1 code reader. (First series of on board diagnostics) 
Read and Clear Check Engine Light Codes: 1988 to 1995 Mercedes - On Demand Video
$3.99
On Demand Video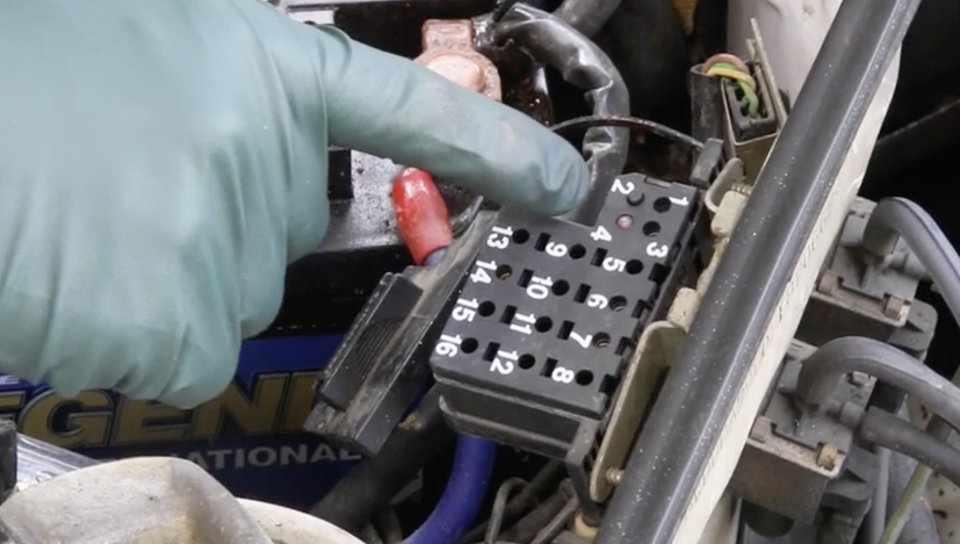 Product Details
If your check engine light comes on, you can use this little device to read the trouble code or codes. These numbered codes will let you know what part of the engine may be malfunction. Once you repair the problem you can used this little black box to "clear the codes" and reset the check engine light. 
ACCESSING ERROR CODE CHARTS: In this video Kent says he will include a PDF download of some of the code charts. He found it was easier to just send you to a link and you can print the charts out as needed. You can also google search for other code charts for other models. CLICK HERE to view common code charts:
In this video Kent will explain how this analog system works, how to get the codes read, how to get more information on the problem, and then how to clear the codes. This will turn the check engine light off. NOTE: the light may come back on soon if you have not really fixed the problem!.
For this video Kent uses a 1992 190E 2.6. The following details are covered in this on demand video:
Location
Models covered
How to activate the counter
Reading the impulses 
How to get mutliple codes read
Powering the code reader
Where to get a code chart for your model
Recommendations for finding additional information on each code
How do do this only using your finger (so special tool required)
Checking for ALL codes
Clearing ALL codes
What to do if check engine light comes back on
How to find additional information on how to fix the problem
NOT INCLUDED: Service codes are needed to find out what the impulse code(s) really mean. These charts are available on the internet and can be found my doing google searching. SEE LINK in description above for most common code charts. No code reader tool is included. No information is included on actually fixing your engine. This video only covers reading and clearing fault codes.
Total Run Time: 13:08
---
How to view this on-demand video:
Once you complete the purchase of this video you will be able to view it immediately when you are logged in and on your personal account page (click on My Account). The video(s) will show up under My Video Manuals. The video is NOT downloadable to your computer or mobile device, but you will be able to view it anytime, from anywhere and from any device as long as you have internet access and you are logged in to your account at mercedessource.com.
Important note: This video manual may or may not include all the information you will need to troubleshoot and/or repair your specific problem/s. Please read the full description carefully to determine if this video is applicable to your year and model and contains the information you are looking for. If not, please refer back to our "Solutions Finder" and enter your chassis number and the specific problem you are having to see if we offer a solution.