This will allow you to create a rear end sump heater or an engine compartment fuel heater.
This Special Brass fitting can be used when making a electric boost heater for biodiesel or vegetable oil fuel conversions. It CAN NOT be installed in a diesel cylinder head. It can be used in the fuel system with all diesel engines that have been converted to SVO.
Special SVO WVO Heat Brass Fitting with 1 New Glow Plug
$26.50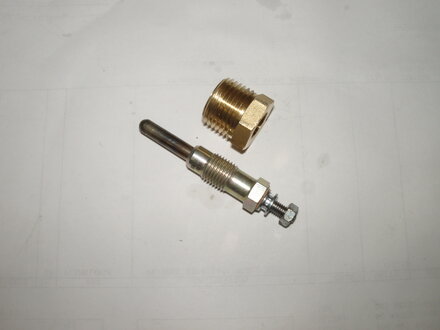 Product Details
I have decided to sell my custom machined brass glow plug fitting complete with 1 new German Pencil Glow Plugs. Many are using the 8-inch pipe thread glow plugs from early Chevrolet diesel engines while others are using the larger thread Mercedes diesel engine glow plugs that are standard on most models from 1982-1993. The problem I have seem is people are trying to use these glow plugs with pipe fittings that are not designed specifically for them. This results in leaks and poor fit. Vegetable oil has a unique way of leaking out of any small crevice. It does indeed has an amazing wicking action. I decided the solution was to machine a proper fitting specifically for the readily available and inexpensive Mercedes pencil glow plugs.
When I set out to manufacture this brass fitting my goal was to machine a standard pipe thread fitting that would fit into all types of filters, pipes and fittings. This required drilling, tapping and machining the inside of this brass fitting so that the Mercedes glow plug would not only tight down in the proper metric thread, but the end of the glow plug shoulder would also seat inside the fitting preventing leaks and providing a tight fit as well. What you see here is a result of those efforts. This brass fitting has a 1/2 inch NPT male thread which can go into any type of black iron or brass fitting using this size female NPT threads. You can use this fitting in a metal chamber to provide boost heat directly before the injection pump or you can also install it in larger fittings that can help warm the fuel either before or after it enters your filtering system. No instructions included.