Works on both gas and diesel engine ball socket throttle linkages from the 1950s to the mid 1990's
Keeping your throttle linkage ball sockets and pivot points lubricated extends the life of the parts and maintains top performance for the engine as well as some of the later transmissions. It also prevents VERY SCARY throttle sticking situations that can lead to engine over-reving and possible accidents. When they do not get lubricated the linkages can be very hard to get off and most likely will end up getting damaged. Kent worked with a couple different tools and ended up modifying this one to make it quick and easy to snap the ball sockets apart. This custom tool really shines and it can get into some tight places. Watch as Kent completely restores the badly worn throttle linkages on a W123 240D.
Throttle Linkage Ball Socket Service Kit with Modified Tool and Special Grease
$19.95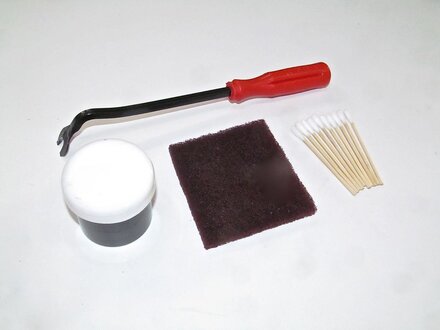 Product Details
This kit includes the special tool shown in Kent's video as well as a 2 oz. container of high temperature synthetic grease. This is the best grease to use as it will hold in place for a very long period of time.  10 applicator swabs plus a small scotch brite pad are included. The above YouTube video will contain all the instructions you will need. 
Related Products:
---