For 1/8 inch vacuum hose connectors on 240D 300D 300TD 300CD 300SD
I have never been impressed with the rubber vacuum hose found on older Mercedes diesels. I don't think the engineers ever anticipated how much abuse or how long these hoses would need to last! Over the years I have seen way too many vacuum related problems lead back to a failed hose connector or short hose length. The combination of high heat generated in the engine compartment as well as both internal and external engine oil contamination are the chief causes of its early demise.
Ultimate Oil Resistant Hi-Temp Reinforced Vacuum hose - 3 FEET
$8.95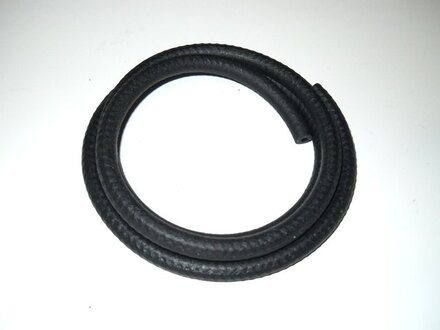 Product Details
By last year I had had enough and started the search for a solution. It took a while, but I have finally found the ultimate replacement hose - and it works so well you cant believe how happy I am to share it with you. Not only does it resist the swelling due to oil contamination, it also holds on so tight to a 1/8 nipple (as found on shut off and EGR valves) or 1/8 inch plastic hard line that it takes some work to even pull it off! This hose is oil and gasoline rated, handles up to 50 psi and it built to handle high temperature. Why didn't Mercedes come up with this! Here is a quick list of where this hose should be used!
Rubber connector on the injection pump fuel shut off valve
Rubber connectors at the

EGR

and its temp sensor
Rubber connectors at the vacuum ignition switch under the dash (this is an important one - never come off!)
Straight rubber connector at the Vacuum Control Shift Valve
Any straight small rubber vacuum connectors in the engine compartment
Rubber vacuum line connector at the transmission modulator
Price indicated is approx 36 inches long. Order in multiples of 36 inches by changing the quantity in your shopping cart.