Instructions on how you can get your pump working again creatively
If you have an early 300SD and your vacuum pump fails, you could find yourself "up the creek without a paddle." The actual mechanism of the pump is very robust and it hardly ever fails, but not so with the rubber diaphragms inside the pump. These are like the achilles heel of all those early diesel vacuum pumps. Thousands of repeated pumping actions cause the diaphragm to crack or tear. When that happens vacuum output will be reduced or will cease all together.
W116 300SD Engine Vacuum Pump Overhaul Options - On Demand Video
$7.99
On Demand Video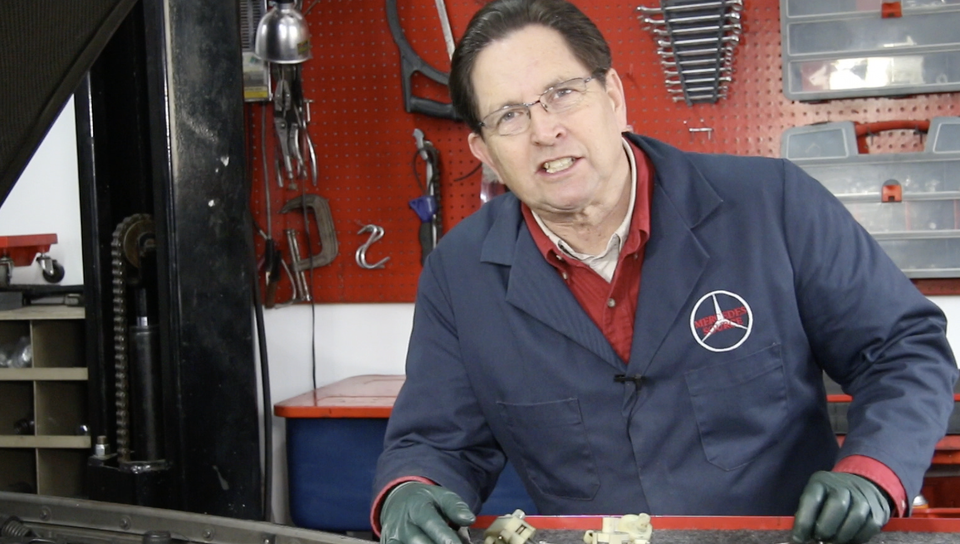 Product Details
Since repair kits for the twin diaphragm are no longer available new, Kent set out to find some type of alternative to keep these pumps going. It is not possible to install a different type of pump of the 1978 and 1979 W116 diesels. 
This video is an instruction "manual" that will show you step-by-step how to make a kit by modifying parts from other kits to fit. We know it is kind of an extreme measure but what other option do you have?  Even getting another used pump is no quaranttee that it will work when you install it - or it will not work for long due to the age of the diaphragms.
NOT COVERED: This video does not cover the removal of the pump form the engine nor does it cover a complete tear down of the entire pump. This video only covers issues related to the two rubber diaphragms and the 6 check valves installed in the upper section of the pump.
Total Run Time: 17:25
NOTE: If you want the repair parts discussed in this video you can purchase 2 of the early diesel vacuum pump kits listed in the related products below.  That will give you the two diaphragms needed and 4 check valves.
---
How to view this on-demand video:
Once you complete the purchase of this video you will be able to view it immediately when you are logged in and on your personal account page (click on My Account). The video(s) will show up under My Video Manuals. The video is NOT downloadable to your computer or mobile device, but you will be able to view it anytime, from anywhere and from any device as long as you have internet access and you are logged in to your account at mercedessource.com.
Important note: This video manual may or may not include all the information you will need to troubleshoot and/or repair your specific problem/s. Please read the full description carefully to determine if this video is applicable to your year and model and contains the information you are looking for. If not, please refer back to our "Solutions Finder" and enter your chassis number and the specific problem you are having to see if we offer a solution.
Related Products:
---