1969 to 1979 220D 240D 300D 300CD and 300TD Only
Note: Works only on models that have two vacuum lines coming of the pump cover. I am seeing lots of vacuum pump problems with the older diesels. They are reaching that age regardless of mileage where the pumps are failing right and left. The rubber diaphragms crack and tear and the check valves wear out. If you haven't had to replace yours yet, you might want to beat it to the failure line and overhaul it before it leaves you stranded.
Early Diesel Vacuum Pump Repair Kit - No Instructions
$42.50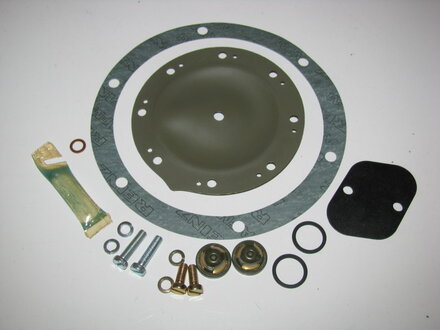 Product Details
Now the reason most owners do not replace the pump as a preventative measure is the cost. Dealer cost on a new vacuum pump is $444.00! At that price I would wait until it failed too! I have a way to beat the system but it takes a little elbow grease. With these parts you can rebuild the unit at less than 10 percent of a new replacement. And this is an easy job too!!
The kit includes a new diaphragm, new set of check valves and a brand new gasket to install the pump. These are all high quality OE parts. Fix it now before it leaves you stranded. When it fails your brakes will not be safe, your engine will not shut off,  and the heater and door locks will go wacky.
Note: Overhaul parts only. NO instructions. This kit is intended for those who have already overhauled one of these pumps before. It this is your first time, I strongly recommend you purchase our complete kit with illustrated instructions and special tools. Look below to order.
Related Products:
---