A step-by-step video on how to do it right - Bonus feature on modifying switches from other models.
If your power seat is not working it is hard to determine if it is a switch, a motor under or inside the seat, or a wiring problem. From our experience  xx % of the time the problem is in a worn out or failed electrical seat switch. If you look at the picture here of a switch opened up you will wonder why they last as long as they do!  Do not try to fix one inside - we do NOT recommend it - and this on demand video DOES NOT cover taking these switches apart and try to fix them on the bench….
W201 Front Power Seat Switch Removal and Replacement - On Demand Video
$4.99
On Demand Video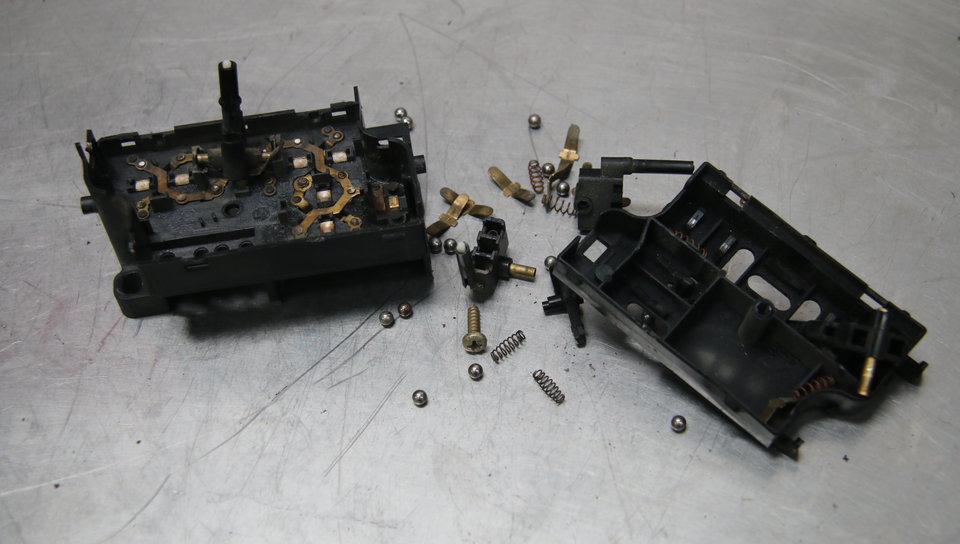 Product Details
This is a step-by-step removal and replacement video and only covers the following:
Over view of job

Tools needed for switch removal
Removing the adjusting knobs from the cover plate (carefully!)
Avoiding damaging the switch pins
Removing the cover plate properly (without damaging switch)
Removing the switch screws without dropping them
How to remove the wiring plugs
Examples showing the "feel" in a bad switch
Using used switches from other models
Modifying other chassis switches to fit (only same year range)
What to look for when looking for a used switch
What switches to avoid
Making minor modifications (in detail
Replacing the switch
Replacing the cover
Replacing the adjusting knobs.
Kent will show you some tricks to getting switches from other chassis to work in SOME of the W201 chassis. There is some extra work involved but in most cases it is worth it. New switches are not cheap. If you can find a good used switch you can save some money! 
This video covers the 190E and 190D. Some principles will apply to the later W126 and the W124 chassis but the actually removal sequence may be different from what is covered in this video.
This video does not cover power seat mechanism troubleshooting and repair nor does it cover seat removal. For help with those problems see other related on demand video.
Total run time: 15:22
---
How to view this on-demand video:
Once you complete the purchase of this video you will be able to view it immediately when you are logged in and on your personal account page (click on My Account). The video(s) will show up under My Video Manuals. The video is NOT downloadable to your computer or mobile device, but you will be able to view it anytime, from anywhere and from any device as long as you have internet access and you are logged in to your account at mercedessource.com.
Important note: This video manual may or may not include all the information you will need to troubleshoot and/or repair your specific problem/s. Please read the full description carefully to determine if this video is applicable to your year and model and contains the information you are looking for. If not, please refer back to our "Solutions Finder" and enter your chassis number and the specific problem you are having to see if we offer a solution.
Related Products:
---