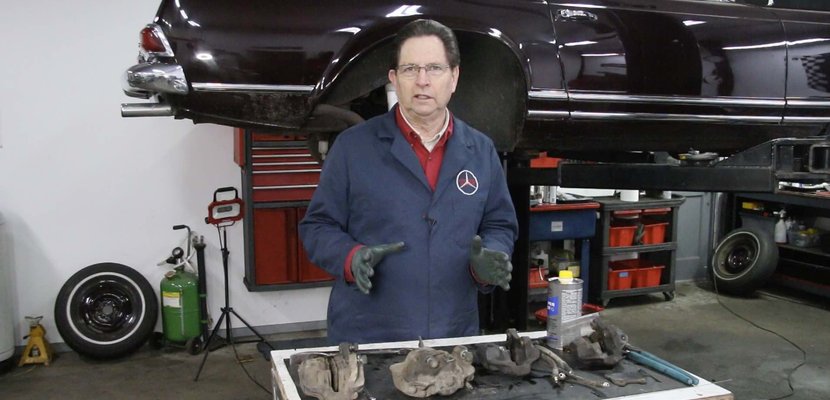 Do a full brake service on your older Benz BEFORE hitting the road.
This is that time of year we pull our prized Mercedes out of winter storage and get it ready to hit the road. Just today (April 8) it was 72 degrees and bright blue skies here in Bellingham. Tomorrow I am going to put the top down and take Happier (my 280SL) for a tour of the countryside. :-)
One of the things that can suffer most during long winter storage is the hydraulic brake system. I have been doing a lot of brake work on older models recently and as one customer learned on his 250SL, it can get very expensive if you neglect your brakes. The first thing you want to do after bringing your car out of storage is change the brake fluid! This is very important - and YES you should do it every year if you do not drive the car much and you are in a rainy or high humidity climate.  BUT,  I have been learning for these type of older cars, fluid flushing is just not enough. Rubber brake hoses need to be changed every 10 to 12 years and the caliper pistons need be be "exercised" to keep the pads from dragging on the rotors at least every 2 years. You may think the pads are not dragging because your car rolls when pushed, but think again! The pads may not be coming back completely and uneven caliper wear is the result. Watch my first youtube video below to see a great example of what I am talking about.
How can you tell if your brakes are dragging?  The second video below will explain some simple tests you can perform on your own car. 
I recommend you consider doing a full brake service on your Benz this spring. That would include a full inspection of the rotors and pads, changing the rubber hoses if needed, doing a complete fluid flush, exercising the caliper pistons and cleaning and lubricating the pad slides, pins and springs. Watch the third video posted below. 
I am currently working on a kit that will allow you to power flush each caliper to be sure and get all the nasty stuff out ( if there is rusty fluid inside the caliper cavities, a normal flush of the brake lines will not get it all out!
I have tools, kits, supplies, videos, and written instructions that can help you do all this YOURSELF. 
Wishing you safe motoring this coming driving season - and it begins with healthy brakes!
Kent Bergsma