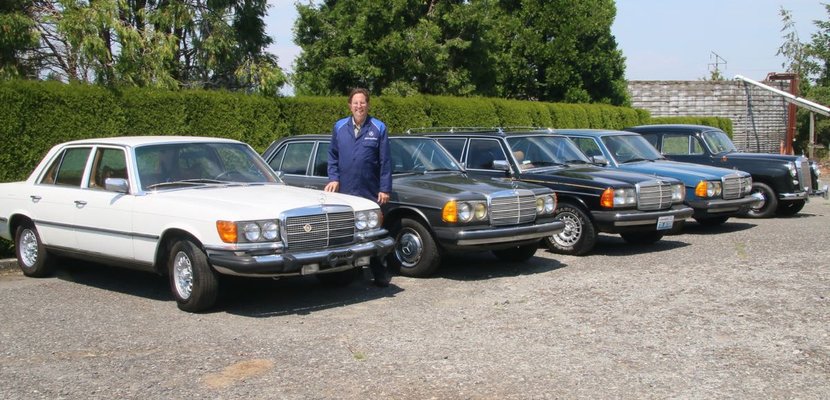 Let Kent tell you how it happened... just to "help" an old pilot friend out
"So how did you happen to go from being a pilot to getting involved with older Mercedes Benz?" This is a question that Kent gets ask a lot. Most of us can recall those seamingly insignificant events that end up changing the whole course of our lives. CLICK ON THE PICTURE TO LEARN MORE. So was the case here. It all started with a 1982 240D in the early 1990's. Watch the video below and he will explain how it all happened and why he continues to be passionate about old diesels. 
It all started with a W123 240D. You know, the one you have to clean bugs off the REAR glass!!  LOL
The W116 300SD is Kent's favorite freeway cruiser.
And for "country cruising" he turns to "Tux" his 1959 180D.
Owning an older Mercedes Diesel can be a very pleasurable experience provided you do the following:
1. Buy the right one in the first place
2. Learn to troubleshoot and repair it yourself
3. Keep it properly tuned and maintained
 
We can help you do all three!  Over 1000 videos on youtube and numerous manuals, parts, kits and on-demand detailed videos specific to Mercedes diesel passenger cars from the 1960's to the 1990's.  CLICK ON THIS LINK and you will be amazed!