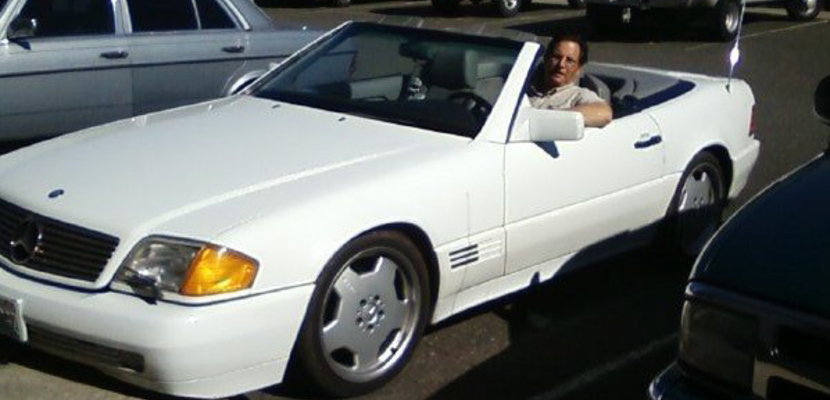 I realize that not all our customers want to restore an older Benz. Some would rather spend the money and purchase a nice Mercedes that does not need a lot of work. Even if one spends top dollar for a pristine model, it usually turns out to be cheaper than buying a project car and paying to have it fixed up. From my experience, the only time it pays to restore an older Benz is if you do all the work yourself and don't count the cost of your own labor!
I also realize a lot of our readers feel we have neglected the interests and needs of the gas powered owners. Currently, there are some great deals to be found on gasoline powered Mercedes from the early 1990's. With the cost of fuel and high shop labor costs many are avoiding buying these types of used cars. If you are patient and know what to look for you can steal a Mercedes. How about an $80,000 plus car for less than 10 percent of the original price?
For this project, I decided to address these two issues. So I went after the coolest, most pristine, most expensive - for the cheapest price - gas model Mercedes I could find. After less than a 30 day search here is what I came home with. This is a picture of the day I arrived with this beauty at the office. Kaia figured I must be having a mid life crisis! I laughed and told her it was more like late life crisis.... I let Kaia and Kiana take it for a spin.  They said they had guys honking at them. I must admit - with the lowered suspension and AMG wheels it is a looker.
Kent Bergsma
THE SEARCH
November 15 update:
The search first started with the idea for this project. I also wanted to purchase one of the new chassis that I had not yet written repair manuals on. This included the 140 chassis S class sedans that began production in 1992, the 129 chassis SL that began production in 1990, and the 210 chassis E class sedan first produced in 1996. I drove and checked out a couple gas powered 210 chassis - both the wagon and sedan. Now dont get me wrong. These are nice cars, but in my opinion are lacking in soul. They are also not too friendly toward the DIY owner/mechanic. The sophisticated electronics/computer systems in these cars can be very difficult to troubleshoot and repair. Some owners (especially of the earlier models) have not been happy with the problems they have had. Others who have owned the 210 chassis have reported no problems and love the car. The 140 chassis is considered by some to be the last great - no expense spared - big Mercedes sedan built. It is a wonderful road car but is also quite complex and expensive to have repaired at a shop. The 129 chassis is no cake walk either when it comes to complexity and cost to repair. For example, the power retractable top has 8 hydraulic cylinders that are controlled by a computer. Just check out the cost of having those components replaced! But what fun it is to roll up to a stop light and hit the single buttom to lower the soft top. You just cross your fingers and hope it doesnt jam half way down - ---especially if you are 50 miles from home. 
So what is my advice? If you are going to own one of these chassis then you had better learn how to service and repair it yourself. Take it to a repair shop and the first couple bills can eat you up and the honeymoon will be quickly over.  (You should see some of the charges for past repairs on my 300SL that I found in the maintenance records - I am sure that is why the original owner decided to finally sell the car.  Some of the charges I consider almost criminal!). If you don't want to do the work yourself, then set aside $3000 to $5000 for repair work in a self insurance account. If you realize this is the reality of ownership - then when something breaks you won't get so upset. Consider this - if you pay $10,000 for what was originally a $65,000 + car and end up having to spend $5000 in repairs you will still be better off than buying a new car. You can lose $5000 on most new cars by just driving them off the lot (when you consider taxes, finance costs, and depreciation).
And finally, if you don't want to do the work yourself and high repair bills worry you - then I recommend you buy a 2003 or newer Mercedes with a Starmark used car warranty. You may pay a little more upfront but the savings over time will out weigh that. Each owner has to decide what the value of their own piece of mind is. Since I fix cars myself I decided I was willing to take the risk of buying an older gasoline model.
This may be a keeper!