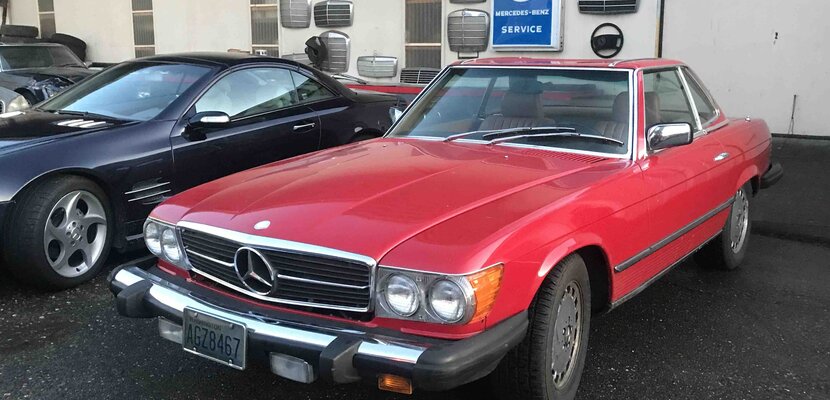 Follow along as Kent does just that on his 1983 R107 380SL
So you want to pick up and restore an old Benz - maybe even a classic SL convertible? I have a recommendation. Bring home a running and rolling restoration project. Do NOT bring home a project car that is not running, needs a repaint, and shows severe signs of neglect. I get people disagreeing with me all the time on this, but you can not believe how many "project" Mercedes I run across that people have given up on. Follow along as I do this on a loved 380SL. You will understand better why I am such a believer in approaching any old car project this way.
I know all too well that it is very tempting to pick up something cheap. You can convince yourself it is the deal of a lifetime! But remember the honeymoon on a car acquisition is about 30 days. Ask yourself, "Can I get this thing looking good, running and rolling down the road in 30 days?" After that, the "honeymoon" is over and you will not have as much enthusiasm to work on it. Here are a couple examples:
Here are what the for sale ads read:
Top car: Nice cheap 450SL - $500 not running needs paint and interior
One in the shed: Hit in front. "Easy Fix"  Must be trailered.
Anything can be fixed, but is it worth the time and money and what will it do to your enjoyment of ownership. Spend the extra money. Find one that has been loved and stored inside. When you go to work on it never tear it down more than it will take 30 days to put it back on the road. That way you can enjoy driving it while you restore it! Follow along in my Youtube vides series on the rolling restoration of "Cherry." 
As you follow along you will learn a lot of tips and tricks along the way like restoring your breaks and cleaning your valve covers to look like new!