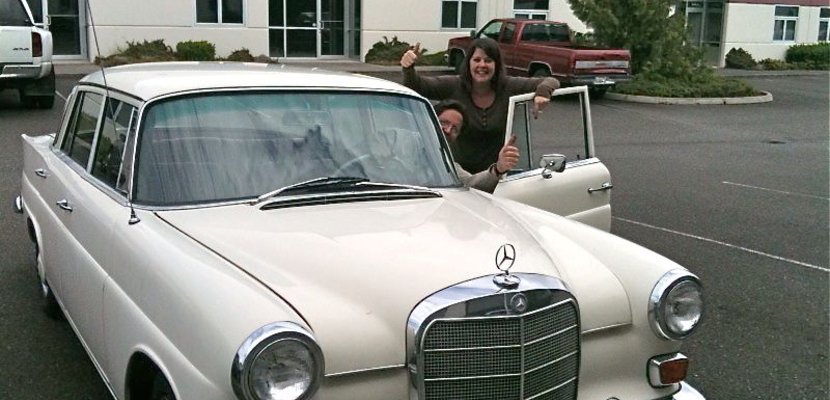 Meet our new company mascot! It is a very nice white 1966 Fintail 230 sedan. You can tell we are pretty excited around here about receiving this little sweetheart. There is a reason for this. It is not often a customer drops by to give us something. It is a new experience for us that a gentleman Mercedes enthusiast would drop by to tell us he wanted to give us his car! Thats right - give it to us... He has owned the car since 1970 and wanted it to find a home where it would be maintained and lovingly cared for. I have seen a lot of Finbacks over the years. Most have been neglected and abused. This one has certainly not been! Boy, were we excited.
Meet Fred H. of Bellingham, When he arrived at our International Headquarters on June 15th with the car, the angels had to come out to get a look and feel. All worked stopped as we took time to extend our thanks and appreciation to Fred. As you can see, we found the car to be a rust free example in exceptional condition.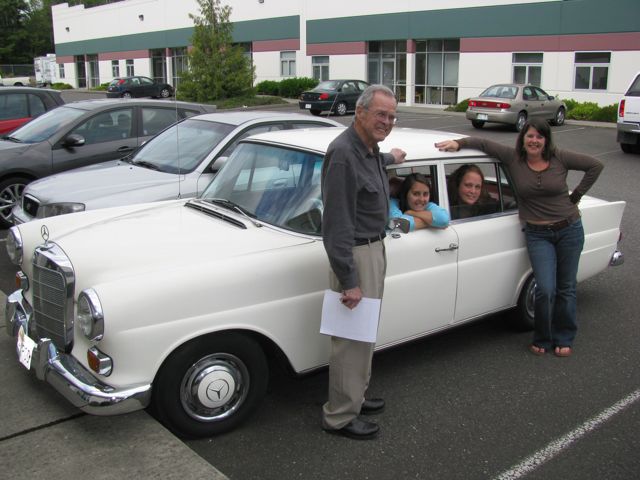 Fred told us the car recently received and fender and doors off paint job during which all new rubber seals were installed and the bumpers rechromed. Since the car has not be driven much in the past few years there are some maintenance issues to attend to. I will be using this car as an example of what should be looked at and replaced when acquiring an old Mercedes. Talk about an easy restoration!
The engine starts well and runs with authority. It has great acceleration for a 6 cylinder gas engine.  The little twin cars are performing well. Automatic transmission is a little jerky. The original leather interior has some tears in the seats. Kaia and Kiana were amazed at how clean the engine compartment is for a 44 year old car. Also hard to believe this car was delivered to the U.S. the same time I was dating Linda in college!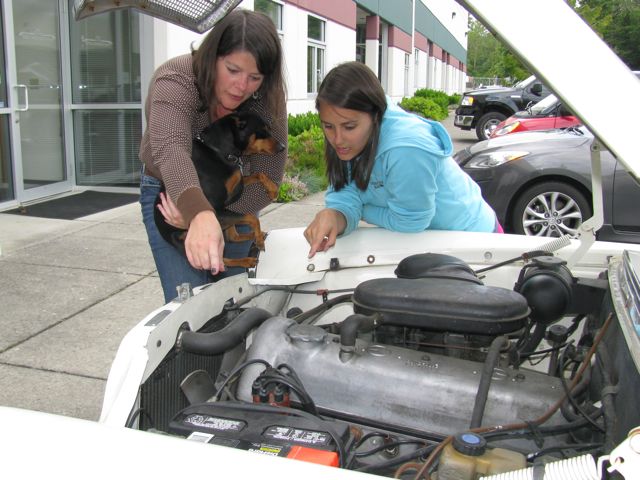 Stay tuned as I will talk more in detail about the work he will do on this car to make it a safe and reliable daily driver. The angels are excited about driving it to the post office to deliver daily shipments. 
Thank you Fred! Words can't express our deep appreciation. We know this was your baby. We will take good care of her.