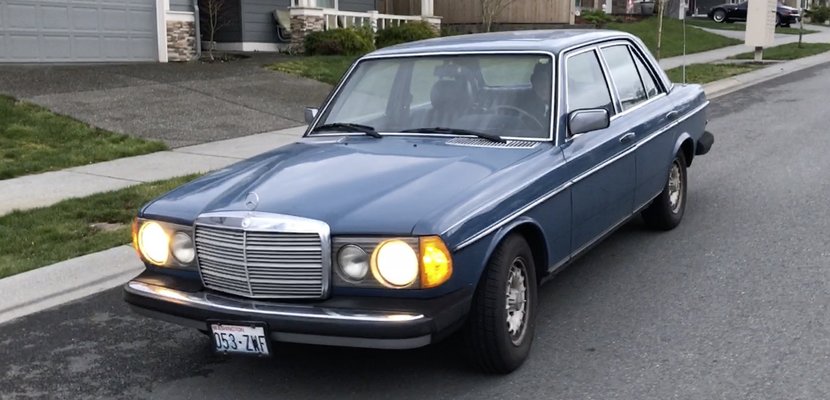 Specifically 25+ years old. The older the more work you may need to do
Have you ever wanted to make a cross-country road trip in a 30 plus-year-old Mercedes? I have always thought it a little "risky" unless the car was thoroughly checked over. I usually recommend if you are purchasing a car that old from "afar" you might want to consider having to truck it to your location. We have heard from a number of our customers who have made such a trip successfully and suggest I might be a little too cautious. A couple years ago I sold a 1980 240D to a buyer on the East Coast. I suggested he truck the car back east but he was adamant about driving it. Turned out he was a retired pilot, was not in a hurry, wanted an adventure, and was willing to take the "risks."  The more I tried to discourage him the more he wanted to do it. He really stressed the importance of this "late-life adventure." Since I wanted him to "make it" I went ahead and did a bunch more worked on the car that I did not charge him for because I admired his courage. He flew into Bellingham and off he went in a 240D with a four-speed manual transmission. It took a while, but he made it without a problem.
Even though some have been "lucky," others have not. To avoid trouble I recommend you at least inspect, repair or replace the following. This is my priority list of 30 and I have broken them down into three categories. I know there are more things that can be checked, but from my experience, these are the things that most likely will leave you stranded. Some could even be dangerous and/or cause major damage.
Safety (11)
Throttle linkage
Front suspension
Front wheel bearings
Brakes
Flexible brake hoses
Flex disks
Center bearing carrier
Rear axles
Tires
Lights
Wiper blades
Reliability  (11)
Belts
Hoses
Water pump
Pulley bearings
Volt Regulator
Fuel hoses
Oil cooler hoses
Radiator neck
Radiator cap
Fuse replacement
Fluids
Performance (8)
Fuel filters
Diesel purge
Air filter
Valve adjustment ( applicable cars)
Thermostat
Diesel fuel injectors
Rear sway bar links
Shock absorbers 
When I recently thought about selling some of my older Mercedes, I decided I wanted to "offer" this type of adventure to others. It would mean I would have to do more work on the cars to get them ready and I would have to charge for the work.  :-) This means these Mercedes will be more expensive than the average old diesel you might see on Craigslist, BUT most need the work anyway - so it will all be done BEFORE you buy the car. Don't forget the old saying, "there is nothing more expensive than a cheap Mercedes!
Over the next few months, I am going to offer 4 of my Benz for sale first to our customers ( so if you are on our mailing list you will be the first to hear about them). The only conditions I have are twofold: 1) The buyer must have enough mechanical experience that he could perform simple repairs along the way if needed. 2) The buyer must be willing to drive the car at least 1000 miles cross county and report back to us with some pictures and a story of the trip. 
Here is a list of the cars. Click on the link to learn more about them and their progress:
1979 W116 300SD ( Sold Immediately )
1994 W124 E320 Coupe ( Extremely nice - super comfort )
1982 W123 240D 4-speed (Rugged reliability but slow)
1980 W123 300D Sedan ( Smooth blue sedan with super strong engine )