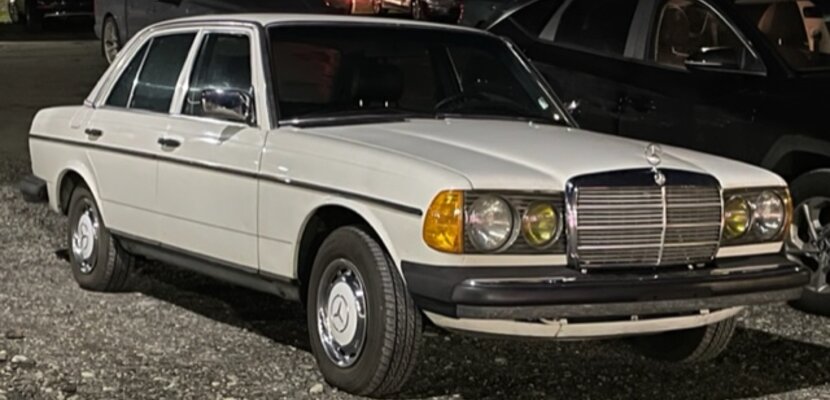 Start with a good solid runner, make your punch list, and then keep working on your rolling restoration until done!
Notice I added in here - enjoyable. You can have a reliable diesel mechanically, but that does not necessarily mean it is going to be enjoyable. If the seat springs are broken down, heater works sporatically, power windows stick and make noise, water leaks into the cabin, glove box door won't close, etc., etc., etc. - then it may not be all that enjoyable.  There is nothing that can put a bigger smile on your face than when you get into an old W123 diesel, starts right up, drives smoothly and everything works - even the cruise control. - the smile will be even bigger if you have done all the work yourself!.
This happened to me this past month as I completed the restoration on White Lightning - my 1983 240D 4-speed with 129,000 miles. The seat back nets and the lighted mirrors were the very last thing to fix. What a pleasure now to drive. The following is a full  list of everything I did on the car. You are welcome to use this for a checklist when you work on restoring your own diesel. 
Body and Exterior Trim
Bumpers removed and rubber trim attachment repaired
All side trim removed, cleaned and waxed, new clips installed, damaged trim replaced
Front windshield and front seal replaced
All four door window scrapers replaced
Sunroof panel removed, full service and lube and all seals replaced
All hinges lubed
Front Grill restored
Exterior paint buffed and waxed
Interior Work Done
All four door panels removed for full cleaning and lubrication
Door checks replaced as required
Vacuum door locks repaired
Inside front chrome door pulls replaced
Headliner cleaned
Seat tracks lubed
Seat map pockets repaired
Lighted mirrors repaired or replaced
Lights and Electrical
H4 headlights installed
LED dash, dome and trunk lights installed
Dash dimmer switch replaced
Clock repaired
All tail light bulbs replaced
Original power antenna repaired - new mast installed
Cruise control repaired - new amp installed
New AGM battery
Suspension and Rear End
All new brakes - calipers, rotors, pads and hoses
Wheel bearings packed
New tie rods (x3) installed
New ball joints
New idler arm bushings
New steering shock
Professional front end alignment
New front and rear Bilstien shock absorbers
New driveline flex disks
New anti sway bar links
Transmission
New Sachs clutch
New Sachs pressure plate
New pilot bearing
New throw-out bearing
New shift linkage bushings
Engine
New motor mounts front rear and center
New front crank seal
Rebuilt fuel injectors with Monark nozzles
New glow plugs - prechambers reamed
New thermostat
New radiator hoses
New Voltage regulator
Valves adjusted - new valve cover