Mounts on top of Injection Pump 1980 to 1984 240D 300D 300CD 300TD - 1981 to 1984 300SD
These are no longer available new. WARNING: DO NOT purchase this item to correct a shift problem unless you are ABSOLUTELY CERTAIN this it is the problem. There could be a number of other vacuum related issues that can cause hard or soft shifts. Troubleshooting shifting problems are completely covered in my manual on 617 Transmission Tuning. You will also need a vacuum gauge and fittings. If you install this unit on your engine before you test your vacuum system you can damage it. See related products for VCV test kit.
1980 to 1984 Diesel Transmission Vacuum Shifting Valve ( VCV )- Tested - Instructions Included
$218.50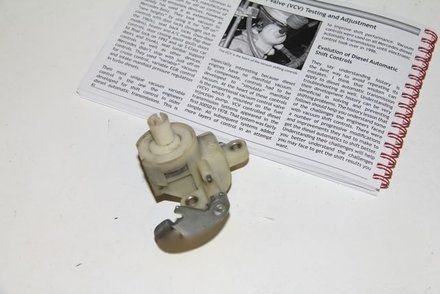 Product Details
Excellent used proportional valve for controlling vacuum to your transmission for proper shifts.This plastic unit was used on 123 and 126 chassis turbo and non-turbo diesel from 1980-1984. Kent will include his written instructions on VCV adjusting at no extra charge (gauge kit not included). 
IMPORTANT: PLEASE READ. Many are confused on how to test a VCV valve. This comes from not fully understanding the purpose of the valve or how it works. Unlike most vacuum related components ( such as an EGR valve it is not supposed to "hold vacuum." Rather it is specifically designed to leak vacuum at a controlled rate.  It is really a leak down or "bleed off" valve to reduce vacuum to the transmission during shifting. Because of that, the only good way to test a VCV is with the valve mounted in the car and the engine running. That is why we include instructions along with this used valve. If you plan to test your old valve or adjust it you must carefully follow the step by step instructions I have included. These instructions are also included in my manual on diesel automatic transmission adjustment and tuning. Kent also has done a short video on how to test the VCV. See related products below:
 It is also important to take into account that there are adjustments that may need to be made to the transmission in order to get the vacuum valve working properly in the system. In many cases, you will not just be able to install this on your car and expect it to work at peak performance unless you adjust it !!! 
This will not fit 1978 to 1980 W116 300SD. Those VCV's had a straight arm. See youtube video for the better explanation. 
Related Products:
---