116 and 126 1978 to 1984 300SD, 1980 to 1984 123 240D and 1981 to 1985 123 Turbo 300D 300TD 300D 300CD. Does not apply to the 722.4 transmissions found in most 1985 models
INCLUDES TRANSMISSION PEAK TUNING MANUAL. DO NOT ORDER SEPARATELY
123 126 Diesel Transmission Ultimate Diagnostic and Tuning Kit
$128.50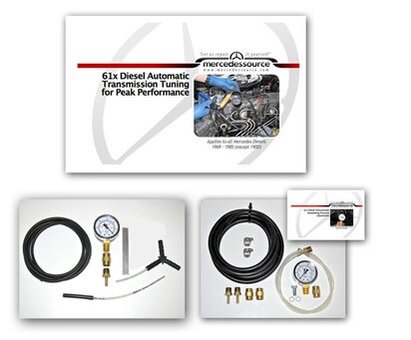 Product Details
To properly tune your diesel transmission you will first need the know-how and then the equipment to adjust your transmission modulator and your VCV transmission shift valve. This Kit will cover models 116 and 126 1978 to 1984 300SD, 1980 to 1984 123 240D and 1981 to 1984 123 Turbo 300D 300TD 300D 300CD. For those of you who have the 1985 model the vacuum modulator test and the VCV tester will work, but the book does not have specific information on fine tuning the vacuum system on the 1985 722.4 transmission. 
Kit includes all items listed below. To read more about each individual book / kits you can go directly to the product links below.
Kent's full length Transmission PEAK tuning manual on vacuum transmission testing and adjustment. 
Mercedes Diesel Automatic Transmission VCV Vacuum Controls Testing Kit
Mercedes 61x Diesel Automatic Transmission Modulating Pressure Test Kit
INCLUDED FOR FREE WITH PURCHASE:
Troubleshooting Older Diesel Automatic Transmission Shift Problems - On Demand Video
How to Test the VCV ( Vacuum Control Valve ) for Proper Operation - On Demand Video
Troubleshooting an annoying shift problem must first start with the vacuum modulator. This vacuum control unit mounted on the side of the transmission must be tested and adjusted to specs BEFORE you move on to other adjustments.
PLEASE NOTE: You will need a hand held vacuum pump tester to perform the diagnostics with this kit. If you do not already own one, We do sell the vacuum pump tester separately look below to view!
Related Products:
---