5 Cylinder Turbo 300D 300CD 300TD and 300SD up through 1984
Want to fix a common leak? If you own a 617 turbo diesel Mercedes I suspect you have already had to deal with oil leaks. It comes with old diesel territory. There is one small common leak on these engines that is annoying at best but a real pain to repair. Maybe you have already spotted it but are uncertain how to fix it. It is right below your turbo charger and on the top forward section of the oil pan. For lubrication and cooling, a large volume of oil is pumped through the turbo charger. When the oil leaves the turbo it drops down into the oil pan through a long tube and pipe assembly that is approximately 3/4 inches in diameter.
617 Turbo Diesel Turbocharger Oil Drain Leak Fix Kit
$44.50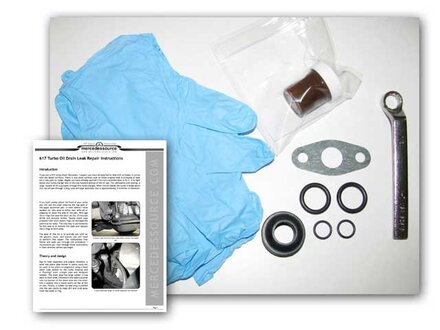 Product Details
PLEASE NOTE: This kit does not SPECIFICALLY apply to 1985 model 300SD or 300D/cd/td with trap oxidizer. EXCLAIMER ****** The seals are the SAME. Procedure and access are different due to the trap oxidizer. So the instructions may not totally apply. We are not sure how the tool will work on the 85 with Trap.
If you look closely below the front of your turbo charger you will see this pipe entering the top part of the upper aluminum pan. In most diesels I have worked on, this area is either wet with oil or weeping oil down the side of the pan. With age the o-rings that seal the short section of the pipe shrink and become brittle. The only way to permanently fix this leak is to remove the pipe and replace the o-rings at both ends. And that my friend can be a real exercise in scraped knuckles and frustration.
Be sure to watch Kent's video regarding this tool kit: Om 617 Turbo Diesel Turbo Charger Drain Tube Leak Fix Tool
SPECIAL NOTE: PLEASE READ CAREFULLY. This kit is intended for those owners who are replacing these seals WITHOUT removing the turbocharger. If you are buying our turbocharger overhaul kit you will NOT need the special wrench or this complete kit.  You will ONLY need the three seals for the drain pipe. Look in related products to order them separately.

The purpose of this kit is to provide with with all the gaskets, seals, and sealant you will need to perform this repair. A special wrench that Kent modifies in his shop is also included. The PDF instructions will walk you through the procedure step-by-step and help you understand what is involved and how to avoid mistakes, hand wounds, and high blood pressure.
Kit contains the following:
Two large o-rings for short pipe
One plug lip seal for short pipe to pan connection
Gasket for turbo down pipe flange
Two small o-rings for air cleaner oil drain pipe 
Proper gasket sealant
Nitrile gloves (2 pairs)
PDF Complete step-by-step illustrated instructions
Without the special tool and the instructions, it is near impossible to remove the curved drain tube without removing the turbo from the engine. Those down pipe bolts just happen to have SAE 1/2 inch heads. This is a quality U.S. made modified tool. You have to get UNDER the turbocharger to get to these bolts and let me assure you it can be a real pain without this wrench! If you are planning to remove the turbocharger you will not need this tool.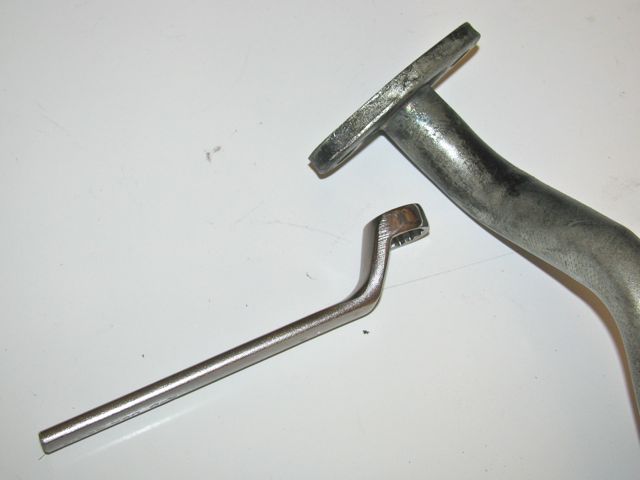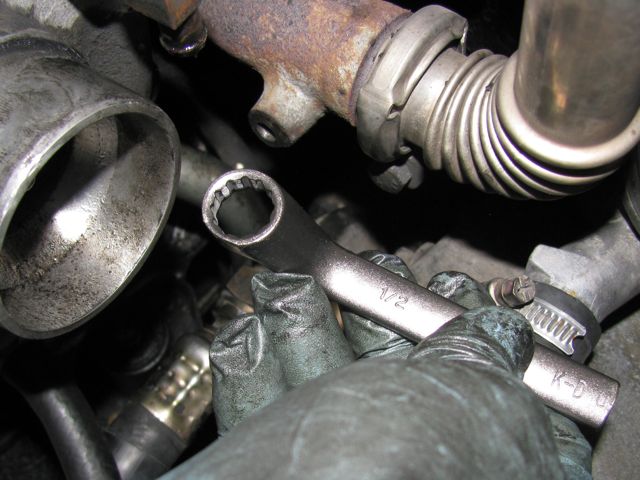 Here is a schematic drawing of the drain tube assembly and corresponding seals. Special wrench is designed to get onto bolt # 91.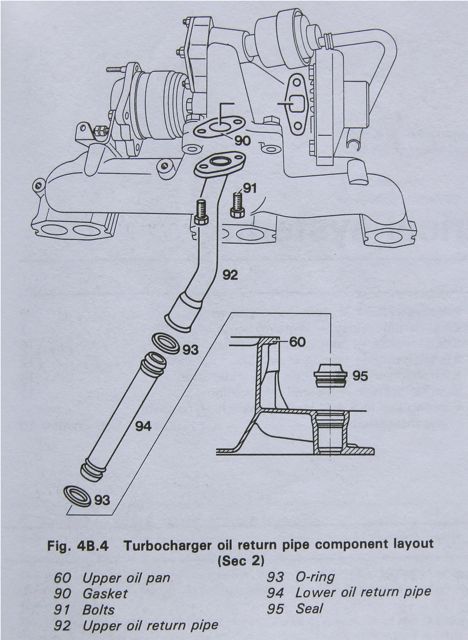 _______________________________________________________________________________
How to view the PDF digital instructions:
Once you complete the purchase of this product you will be able to download the digital instructions immediately when you are logged in and on your personal account page (click on My Account). Any PDFs will show up under My PDF Manuals. You will be allowed three downloads, so please save the file on your machine for backup.
_______________________________________________________________________________
Related Products:
---