If caught early enough they can be easily fix permanently with Miracle Paint
On older Mercedes spot rust can be a hidden problem under side moulding trim, under fenders and rocker panels and inside the bottle edges of doors. Even if the car is in excellent condition and has been well taken care of, if water has ever rained down on the car or splashed up from the roadway small spots can begin to form in hidden moisture trap areas.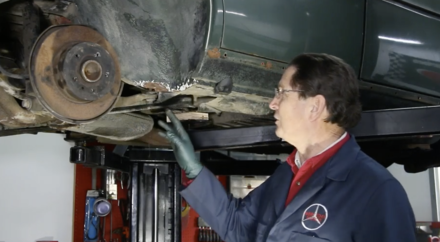 Problem & Solution
Common among these chassis:
Classic Sedans
Ponton
R107
W108 W109
W110 W111 W112 Sedan
W111 W112 Coupe
W113
W114
W115
W116
W123
W124
W126
R129
W140
W201
Once it starts even the smallest rust spot can grow into a rust hole. You have to stop it early and that starts with knowing first where to look. One common area is along the edges and under the factory undercoating inside the fender wells. Once discovered repairing it is definitely something you can do yourself with the right tools and products and repair it so it won't come back!
Kent has recently filmed an on demand video where he demonstrates the techniques he uses to repair some spot rust areas on his 1970 300SEL 6.3. The key product he will be using is the special Miracle Paint that we carry on our website. The on demand video is very detailed and is almost one hour long.
Please see related products below for a link to this video as well as our other rust repair products: