High moisture "hidden" rust areas have to be treated and coated properly or they will not be permanent
On older Mercedes spot rust can be a hidden problem under side moulding trim, under fenders and rocker panels and inside the bottom edges of doors. Even if the car is in excellent condition and has been well taken care of, if water has ever rained down on the car or splashed up from the roadway small spots can begin to form in hidden moisture trap areas.
Under Body and Under Trim Spot Rust Repair - On Demand Video
$12.99
Get it for Free! This is available as a free add-on item. Review the product details for bundle options.
On Demand Video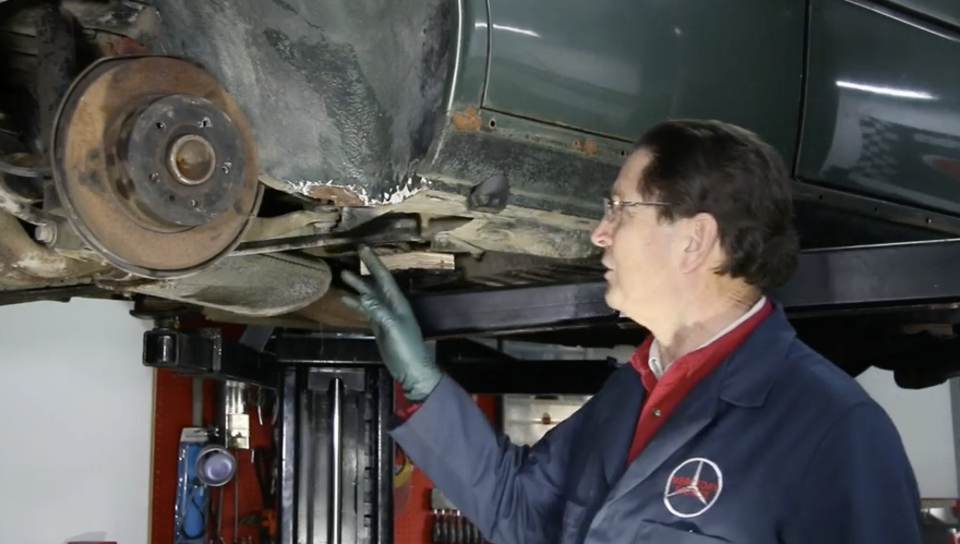 Product Details
Video Preview:
Once it starts even the smallest rust spot can grow into a rust hole. You have to stop it early and that starts with knowing first where to look. One common area is along the edges and under the factory undercoating inside the fender wells. Once discovered repairing it is definitely something you can do yourself with the right tools and products and repair it so it won't come back!
In this video Kent will demonstrate the techniques he uses to repair some spot rust areas on his 1970 300SEL 6.3. The key product he will be using is the special Miracle Paint that we carry on our website. The on demand video will cover the following topics:
Where to look for hidden rust
How holes in body can be a real problem
How factory undercoating can actually cause rust
Scraping away loose rust.
What power tool to use to grind out the old rust and surrounding area
Safety issues
Demonstration removing body undercoating around a rust spot
Applying rust converted to the pitted areas
How long for rust converter to dry and harden
Sanding converted areas with proper technique and sandpaper
Preparation for Miracle Paint
Types of brushes for applying Miracle Paint
Where and how much Miracle Paint
How to avoid heavy runs
Using the Miracle Paint as a "filler" for small pits
Applying Miracle Paint to body trim holes
Application tips to prevent drips
Watching and waiting -how long to tack up
Cleaning off excess runs of Miracle Paint
When to apply second coat
When to apply the glass filler to the Miracle Paint
Application of the interim bonding or
 "rake coat."
Standard body filler should not be used
What products and brands to use for filling on top of Miracle Paint
What type of comb to have on hand
Applying additional coats of special filler where needed
What types of sandpaper to use
Types of sanding to avoid
Multiple coats of Miracle Paint to fill small pitted areas
Protecting the body paint
Applying and forming the second coats of special filler
Staying with the second coat of special filler to reduce sanding required
Texturing the special filler by hand as it hardens up.
When to do the initial sanding of the filler
Priming the repaired areas
Types of primer to use
Tips for covering surrounding areas to prevent overspray
How to add texture to the repaired areas by using the right product
Avoiding cheap body undercoating - example shown why you should not use it!
Proper application of the special texture coats
Sanding, priming and filling small spots not needed filler
What to do if you find any area with real small holes in the metal
PLEASE NOTE: This video does not cover repairing large rust holes nor does to cover fixing rusty areas on your open body panels before a repaint. Only small under trim and underbody rust areas are covered.
Total Run Time: 58:26
---
How to view this on-demand video:
Once you complete the purchase of this video you will be able to view it immediately when you are logged in and on your personal account page (click on My Account). The video(s) will show up under My Video Manuals. The video is NOT downloadable to your computer or mobile device, but you will be able to view it anytime, from anywhere and from any device as long as you have internet access and you are logged in to your account at mercedessource.com.
Important note: This video manual may or may not include all the information you will need to troubleshoot and/or repair your specific problem/s. Please read the full description carefully to determine if this video is applicable to your year and model and contains the information you are looking for. If not, please refer back to our "Solutions Finder" and enter your chassis number and the specific problem you are having to see if we offer a solution.
Related Products:
---