This is the best tool and attachments to use for cleaning small hard-to-get-to rusted metal surfaces
Over the years I have used lots of different methods to clean off rust before applying Miracle Paint. This is the best and quickest method I have found. This is a great tool that can be used for many other things like cleaning off brake hubs and rotors. Watch the video below to see an example of how this tool and attachments are used to battle rust in two very high probability areas on older cars. 
Miracle Paint Preparation Kit for Rust Pitted Surfaces
$44.95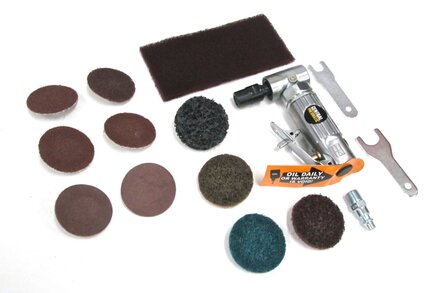 Product Details
The angle die sander/grinder is perfect for reaching tight or angled grinding jobs that inline die sander/ grinders just won't reach. A compact size allows for ultimate mobility and control while working at up to 20,000 RPM. Features include a rear exhaust air flow system, a rugged ball-bearing motor and lever throttle action. It has a paddle lever for smooth control and a lightweight aluminum body with a dual ball bearing motor. It will require a compressor that can put out 3 CFM @ 90 PSI.  It will run on smaller compressions but you will have to stop and allow the pressure to build back up. That is still doable if you are just working on small rust spots and not running it constantly. 
With the scouring pads and sanding disks included that tool also works very week to clean off brake rotors and other rusty suspension parts. 
Related Products:
---