Problem & Solution
Common among these chassis:
W110 W111 W112 Sedan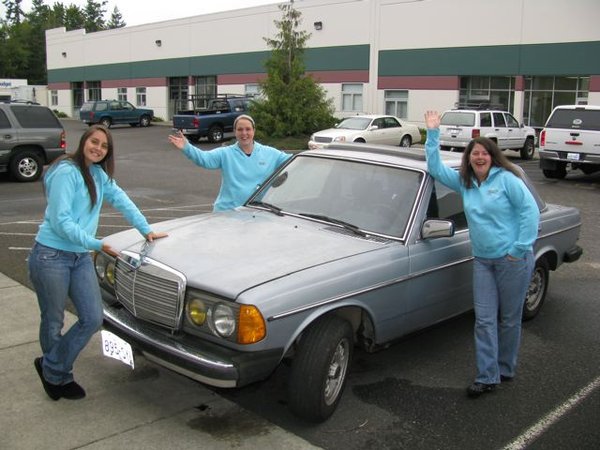 My goal was to find a 1982 to 1984 300D sedan in good solid condition. I personally feel this is the best of the breed.  (Note: I try to avoid the 1985 models with the trap oxidizer). It had to have absolutely no rust or accident damage and under 250,000 total chassis miles. From my experience of working on hundreds of 123 chassis I have learned that a Mercedes exposed to road salt is just not worth dealing with and one with more than 250,000 miles may leave you fixing many more things than you ever imagined. I was not afraid of an engine transplant as I had a good low mileage engine as well as a completely rebuilt 617 turbo hiding away in my shop. A good color combination was highly desirable (am not personally fond of yellow or brown).  It had to have a good interior.  Of course I wanted to find one with excellent paint, but a repaint was not out of the question as long as the body was not covered with dings and dents. A car was located and purchased out of Poulsbo, Washington for $600 and trailered by the owner to Bellingham. What follows is a description of the events during and following this acquisition.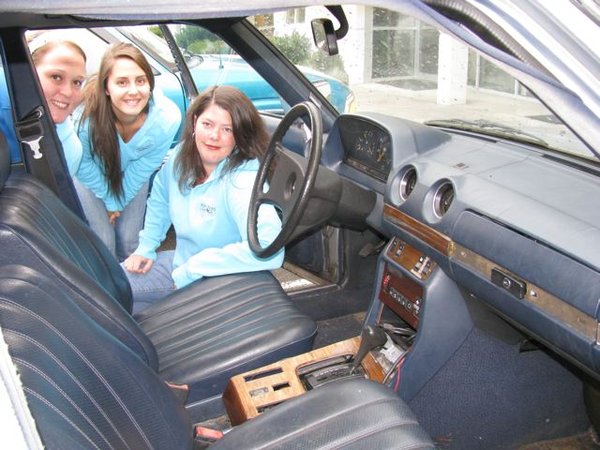 Phase 2: INITIAL VISUAL INSPECTION

Although normally against my principles I did buy the car sight unseen.  I was able to obtain a detailed description from the owner along with numerous pictures.  Others have already learned that buying an old diesel sight unseen can be very hazardous to your pocket book. If you are considering purchasing a Mercedes diesel I HIGHLY recommend you first obtain and read my Mercedes Diesel Buyers Survival Guide. This guide will show you many of the pitfalls to avoid and direct you on which models are least troublesome. I have received many emails from our customers wishing they had read this guide before they purchased their diesel.

The owner expressed to me that the car was straight and rust free but needed paint. The main reason he was selling it was that it would not go any faster than 30 mph. I figured that if the engine was shot that would be ok for this project. On the other hand I have had some pretty amazing things happen when buying old Mercedes diesels that would not produce any power. Of the dozen or so I have purchased with those symptoms over 80 percent turned out to only need a simple fix. Maybe I would even luck out again this time.  In the end I had to calculate my risk of buying sight unseen.  If the car turned out to be a total mistake I could at least get my money back in parts.... 

When the car arrived Sunday on the trailer it proved to be exactly as my mind pictured. A quick two minute walk around showed that the body was good, chrome was good, glass was excellent and interior (except for cracked dashed) was above average (except for the misty smell inside the car). The engine fired right up without hesitation and the car was driven off the trailer. With title in hand I waved goodbye to the seller and decided this diesel just might be the right candidate. It would take a closer inspection though, before my decision would be finalized.


The next day I showed the car to my Angels - Kaia, Kiana and Kristin.  As you can see in the pictures they were excited about the find.  They thought that it maybe even had some potential but absolutely did not appreciate the mold and smell inside the car.  It was obvious the car had sat for quite some time without being driven.  The peeling clear coat was also a turn-off during their initial inspection. At least they did not think I was crazy.

With the visuals out the way it was time to dig into the reasons the engine was running so poorly. 

Phase 3: INITIAL MECHANICAL INSPECTION

It was time to get in the car and drive.  Once again I was impressed with how well the engine started and quickly shut off. These are good signs of strong compression. See my manual Diesel Compression Test Guide if you want to learn how to test your own car's compression. My first goal was to find out why the car had no power. Sure enough I got out on the road and floored it.  It hit its max 30 miles per hour and felt like it was dragging an anchor! These symptoms can be classic signs of plugged filters, improperly adjusted throttle linkage, poor fuel delivery, and plugged air intake or exhaust.
All these procedures and checks are covered in my manual Mercedes Diesel Performance and Repair
Back at the shop I went to work checking the simple things first. You will be amazed at what I found! Check back for the next installment...
The first thing I looked at was the throttle linkage. You would not believe the number of diesels I have seen that were not getting full throttle at the injection pump. Linkage appeared out of adjustment but I found it was getting full deflection to the wide open stop. Next I pulled the ALDA fitting at the rear of the intake manifold. Sure enough - it was plugged solid with soot.  I cleaned the banjo fitting and was feeling confident this would give me a good boost in power.  Before I drove it again I pulled the top of the air cleaner to check the filter.  Filter was only slightly dirty and no signs of any obstruction in the intake elbow to the turbo. Fired the engine up again and hit the road. I floored it thinking I was going to feel some normal acceleration, but I was only able to get to about 35 mph before the car topped out. At this point I figured it had to be a fuel restriction somewhere - either at the tank outlet screen or the main fuel filter. Plastic pre-filter looked ok. 
As I was getting ready to pull the car back into the shop I kept thinking there had to be something else I was missing. Then it dawned on me.  Considering the condition of the car and the musty smell inside it was obvious that the car had not been driven for quite some time.  How long was anyones guess! Just how old was the diesel fuel in the tank! There was less than a quarter of a tank but any amount of old diesel fuel (older than one year) can raise havoc with engine power. Ran down to the local gas station and picked up a 5 gallons of new diesel.  Poured it into the tank and hit the road again. This time after a few moments of coughing and sputtering the old diesel accelerated right up to 55 mph. How is that one for a simple fix!
From the sound and feel of the engine I could tell there was still more work to do. The engine was running real rough and smoking right at startup. Transmission was not shifting properly and the water pump was making some bad noises and leaking water  (this was probably why the car was pulled off the road in the first place). The first thing on the list would be to determined the health of the engine.  The next installments will include the results along with other things I discover on a close engine inspection in the shop and on the lift.
For a complete detailed guide on how to determine your engines condition and causes please refer to my manual Advanced Diesel Fault Diagnostic
This guide will cover starting, shut-off, performance, fluid leak, and noise issues. Each fault is discussed in detail along with possible causes and how to troubleshoot each one. A must have for any Mercedes diesel owner / enthusiast.
Phase 4: THOROUGH ENGINE INSPECTION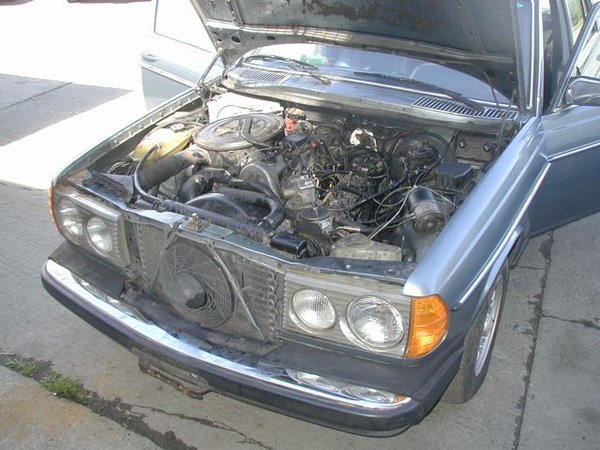 During this phase I will evaluate the internal condition of the engine and determine if it is worth saving or in need of replacing. If you are wondering why I am starting here let me explain. In any old Mercedes diesel, the engine is the most important and valuable asset of the vehicle. In many cases the value of the engine can be more than what an owner paid for the entire car. Properly rebuilding a diesel engine can range anywhere from $4000 to $8000 (and up) if you have it professionally done. That has proven to be a real shock to many who are faced with a dying engine.
We regularly receive emails from our customers who have spent hundreds of dollars on their Benz only to find out later that the engine is worn out. I know the temptation. After spending weeks or months searching, you find and acquire your diesel and are immediately inspired to fix all the cosmetic and minor mechanical flaws. Then winter comes and the temperature drops. You discover the engine is very slow to start on those cold mornings. You decide take it in to your local shop for a check up. When the report comes back you are shocked and dismayed to learn your engine needs a complete rebuild.  This happens more often than you would think. Avoid the temptation to put ANY money in your diesel until you determine the condition of the engine.  In some cases what you find will encourage you to immediately sell the car and look for another.
There are a number of things you can do to help you evaluate your engines health. Sight, sound and smell can all help, but the single most important inspection item is a cranking compression test when the engine is cold. Diesel engines require very high compression to heat and ignite the diesel fuel properly. When the piston rings and cylinder walls wear, the compression will drop resulting in poor starting, loss of power, excess fuel consumption and poor fuel economy. AND there is NO quick easy fix for this condition.  You can not just -throw in a set of piston rings - like you could on a gas engine. A lasting fix will require complete disassembly of the engine - installation of new pistons and/or cylinder wall liners and rings - as well as bearings, gaskets, head rebuild, etc.