For 200D 220D 240D 300D 300CD 300TD 300SD to 1985. This manual is written specifically for the diesel owner who wishes to know more about his engine and to understand how to tune and adjust it for maximum performance. Even if you do not intend to do all the work yourself, you will gain valuable information that may save you hundreds of dollars in future repairs.
616 617 Diesel Performance Tuning and Repair Manual by Kent Bergsma
$24.50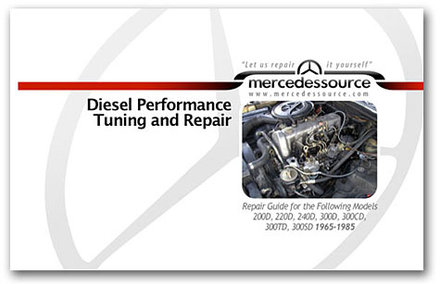 Product Details
For all Mercedes Diesels from the 200D to the end of production of the 617 Turbo diesel in 1985. This applies to chassis 110, 115, 116, 123 and early 126. Does not cover the 201 chassis 190D.

In it are contained all the little tips and tricks that will help you determine the health of your engine and to maintain it for maximum longevity. With the older 4 cylinder and 5 cylinder Mercedes diesels you need to have everything just right with the engine in order to draw all the power you can (you need it all!). With age these diesels suffer from common problems that rob them of power. I have included an easy to understand checklist to check, tweak, and repair those common trouble areas.

Other areas covered are hard starting, cold weather starting, injection pump timing using the NON drip method, excess smoking, motor mount replacement, valve adjustment, turbo diesel mixture adjustment, preventative maintenance, as well as much more. This manual will teach you how to be diesel smart and save you grief and money in the process. Also, the information contained in this guide will help show you how to avoid buying a tired or dying diesel Mercedes. Easy to understand and follow, it is just under 100 pages in length and is loaded with detailed instructions and over 130 reference pictures. This may be the best money you have ever spent on your diesel.