Check the Health of your Diesel Engine Yourself - Save BIG $$$
If you are going to buy or have just purchased an older 5 cylinder Mercedes Diesel (1975 to 1985) the first thing you need to do is a good physical exam of the engine. Don't throw money at a car that has a dying engine. It is even better to do this BEFORE you purchase the car to prevent surprises and major pain in your wallet.
5 Cylinder 617 300D 300TD 300SD Physical Exam Kit
$246.50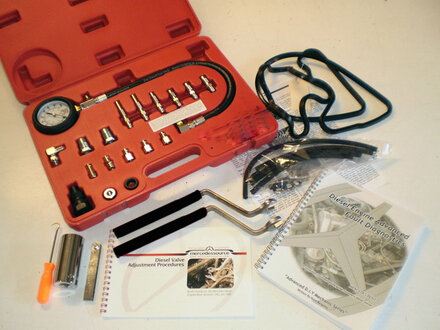 Product Details
Check out what happened to us recently on our 1982 300D Project by CLICKING HERE!
This kit of special tools and hardware will let you do this critical doctor's exam yourself. And you will save lots of $$$ - maybe even tons. This exam would cost you $300 to $400 at a shop. You will also save $40 over buying these items individually, and you could save thousands when this kit prevents you from purchasing the wrong car! The horror stories we hear regularly about bad diesel purchases are preventable. PLEASE NOTE: colors may vary: The compression tester now comes in a grey case and the valve wrenches are made using USA Wright black oxide combination wrenches
We also have this kit available for 4 cylinder 220D and 240D (use the search box and enter Physical Exam). 
The exam kit contains the following: Click on each related product link to read the full description or to purchase the item individually.
Valve Adjusting wrench set with feeler gauges and detailed instructions. Note: A proper valve adjustment MUST be done before a compression test in order to assure accurate results.
Diesel Engine Compression Tester with detailed instructions. A cranking compression test is the key to determining the internal physical health of the engine. And the engine is the most important and most valuable asset of the car. FREE VIDEO COMPRESSION TEST INSTRUCTIONS INCLUDED.
60 inches of injector return hose and 5 heat shield crush washers.  The fuel injectors need to be removed when doing a compression test. Replacement of the injectors will require replacement of the sealing washers under the injectors and the rubber injector fuel return hose.
Fuel Injector Socket. A must-have in order to easily remove the fuel injectors for testing.
Advanced Fault Diagnostic Manual for Diesel Engines.  This manual will walk you through diagnosing all engine starting problems, shut off problems, performance problems, noise problems, and fluid leak problems.  A must-have for every 220D 240D diesel owner.
As an extra bonus, we will include a new 5 cylinder valve cover gasket FREE OF CHARGE. The valve cover gasket should be changed every time the valve cover is removed to prevent leaks.
If you already have one or more of the above items just order the others individually to complete your exam kit. backinstock
We are happy to send this item to Canada or International Customers.
Doing a compression check on a 61x diesel is not difficult if you have the right equipment!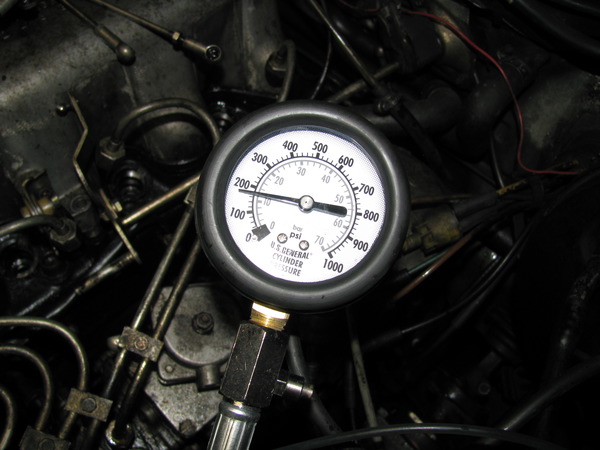 IMPORTANT NOTICE PLEASE READ: We are removing some of the  fittings from the case. These are fittings that do not appy to Mercedes Diesel Engines or are multiple fittings of the same that you would not use. This will prevent confusion as to what you should use when compression testing your engine. Do not be alarmed when you receive your test kit. Please see picture below to note empty spaces.  How to view the PDF digital instructions:
Once you complete the purchase of this product you will be able to download the digital instructions immediately when you are logged in and on your personal account page (click on My Account). Any PDFs will show up under My PDF Manuals. You will be allowed three downloads, so please save the file on your machine for backup.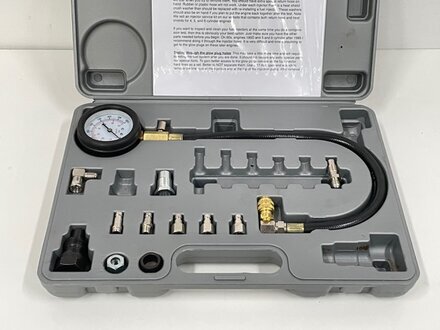 _______________________________________________________________________________
Related Products:
---