Finally we can offer a strong and very deep socket that will work on all Bosch Diesel Injectors from the late 1950's to 1994
Works on 110, 115, 116, 123, 201, 126 and 124 diesel engines 200D 220D 240D 300D 300CD 300TD 300SD 190D 300SDL. We have found that over half of the deep sockets we test will not go over some of the longer injectors. We sourced this socket to work on all fuel injectors that you see in the pictures below: We are shipping the best chrome deep 1 and 1/16 inch 6-sided socket in 1/2 drive that we can find with the current supply problems ( the older version we use to sell is shown in the picture above). This socket is made in Taiwan and it better quality than those made in china. You will also receive the pick tool needed to remove the old heat shield crush washers under the injector tips. It comes will complete instructions for fuel injector removal and replacement. 
Diesel Injector Removal Socket and Pick with Instructions
$19.95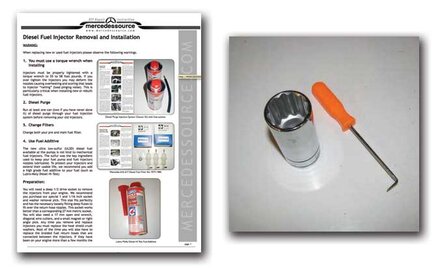 Product Details
_______________________________________________________________________________
How to view the PDF digital instructions:
Once you complete the purchase of this product you will be able to download the digital instructions immediately when you are logged in and on your personal account page (click on My Account). Any PDFs will show up under My PDF Manuals. You will be allowed three downloads, so please save the file on your machine for backup.
_______________________________________________________________________________
The crush washers must be replaced each time you re-install diesel fuel injectors. You should also plan to replace the small fuel return hose that goes between each injector. If you try to reuse it even if fairly new it will probably leak. To order crush washers and injector return hose see related products below.  You also might consider buying our special long plier for installing new injector return hose. 
Warning: This socket may not go on over ANY injector if the return hose nipples are bent out. We have found this is happening more often as people bend the nipples out to help get the little hoses on! If you find that is the case with your injectors the nipples can be easily pressed in by pushing them on a block of wood. ONLY push in far enough for the socket to clear them. If you push them in too far you will have a difficult time installing the return hose
Here are two pictures of the three types of BOSCH injectors. Notice how this socket can fit fully over even the longest Bosch injector (second picture below),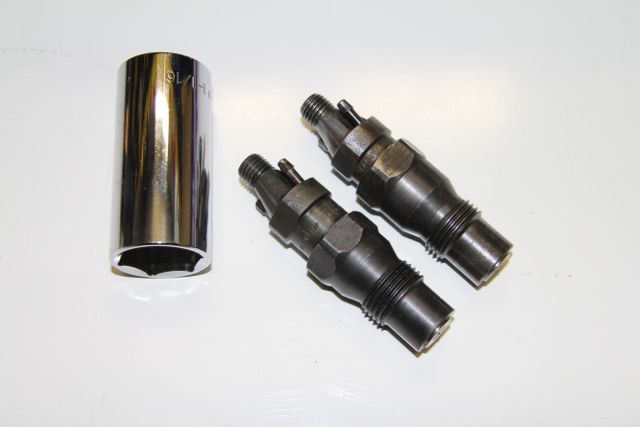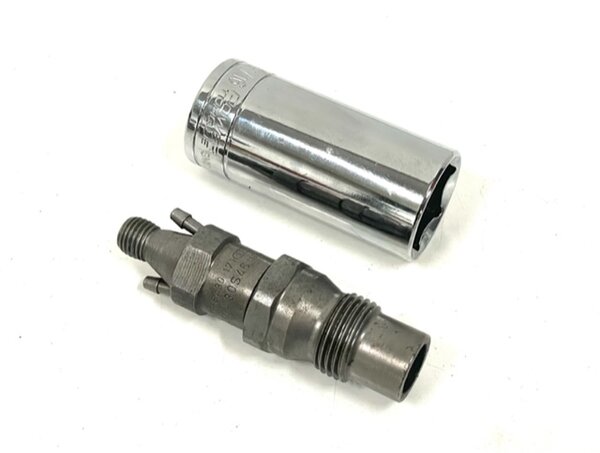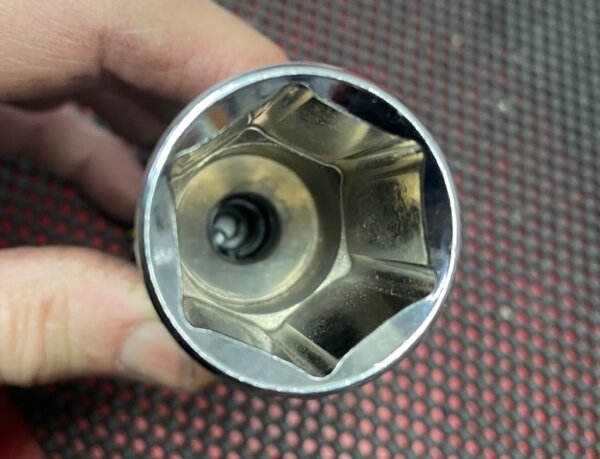 Related Products:
---