Will NOT work on all mechanical injectors - see notes in description
Works on most 110, 115, 116, 123, 201, 126 and 124 diesel engines 200D 220D 240D 300D 300CD 300TD 300SD 190D 300SDL.
Diesel Injector Removal Socket and Pick with Instructions
$19.95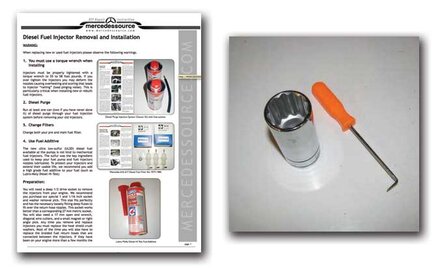 Product Details
WARNING: We have found that this socket will not work on some oddball injectors we have seen on some engines.  It works on 80 to 90 percent of the fuel injectors found on older Mercedes. YOU MUST CHECK YOUR INJECTORS BEFORE ORDERING (See pictures below).  If you order in error the socket is not returnable.
If you have to remove your fuel injectors it is much easier if you have a slightly-loose-fitting 6 point deep socket. We offer a quality chrome deep socket in 1/2 drive along with the pick tool you will need to remove the old heat shield crush washers under the injector tips. Comes will complete instructions for fuel injector removal and replacement. If the socket is too tight fitting it will be hard to remove your injectors unless you trim the injector return line off completely and in some cases bend the return line nipples in some. In most cases this socket will allow you to get the injectors out with short tails of injector return line still attached. 
_______________________________________________________________________________
How to view the PDF digital instructions:
Once you complete the purchase of this product you will be able to download the digital instructions immediately when you are logged in and on your personal account page (click on My Account). Any PDFs will show up under My PDF Manuals. You will be allowed three downloads, so please save the file on your machine for backup.
_______________________________________________________________________________
The crush washers must be replaced each time you re-install diesel fuel injectors. To order crush washers for your model enter 'crush washer' in the search box.
Here is a picture of the two types of standard injectors this socket will work on.  One is quite short and the other is medium length.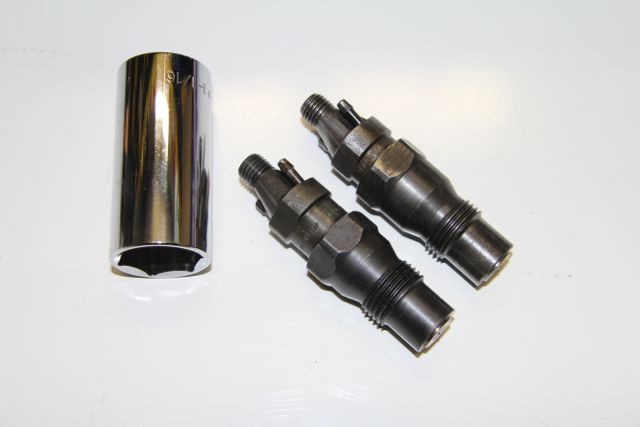 This picture below shows the injector that this socket WILL NOT work on.  Note how narrow the hex surface area is compared to the two above. You can also see a grove in the body right above the hex area.  When the socket is put over the injector it will not go down far enough to reach that hex surface (picture lower right).  If you have this type injector you will need to find a socket that is broached (or cut) all the way to the bottom of the head. It is hard to find sockets like this. We have seen Craftsman sockets that have this deep broach.