For adjustable valve clearances on 190D 200D 220D 240D 300D 300CD 300TD 300SD 1961 to 1985
These wrenches are fantastic labor savers. If you have been thinking about adjusting your diesels valves on your own - this kit will save you time, frustration, and high shop labor costs. Now is the time to get your own pair. NOW WITH RUBBERIZED GRIP HANDLES. 100 percent made in the U.S. The wrench, pipe for the handle, and even the rubberized handle material are ALL made in the good ole U.S.A!!!
615 616 617 Diesel Valve Adjusting Wrench Kit - Designed by Kent Bergsma - Made in the U.S.A.
$118.75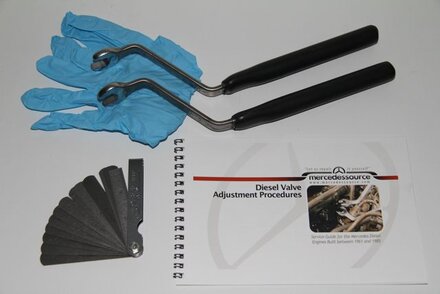 Product Details
Works on the following chassis with diesel engines from 1961 -1985: 110, 115, 116, 123 and 126 300SD. The 201 190D and all other Mercedes diesels from 1986 and on had self-adjusting hydraulic lifters that do not need servicing. The lack of routine valve adjustments may just be the single most neglected maintenance item I see on diesels coming into my shop for the first time. Neglect here can cause low compression, hard cold starts, rough idle, excess smoke, reduced power, and poor fuel economy.
Valve adjustments should be done every 12,000 to 15,000 miles. If you do not know the history of your engine, do an adjustment procedure NOW before anything else! I recommend you do not attempt the job without the proper special wrenches. Regular open-end wrenches will not work. Detailed how-to instructions are included with this wrench set, along with feeler gauges in the proper clearances. These wrenches will also be required if you plan to replace your valve guide seals.
I know you are going to appreciate how well my special wrenches work. They fit better and are easier on your hands than the German Hazet wrenches. With the offset heads, you will also be able to gain better access to the rear valves. I have now sold over 10,000 sets (Nov 2011) and it all started with my frustration and pain at using the German wrenches. Summer 2021 update: Due to shortages created by Covid we are having a hard time getting the 14mm Wright wrenches. Kent refuses to use any other wrench as these are still made in the U.S.A - they are stronger steel, weld, and bend better than imports, and the jaws are thick enough that they won't spread with heavy use. We currently can only obtain the black oxide and not the satin chrome wrenches. Strength and performance are the same but the wrenches will now come in all black.   backinstock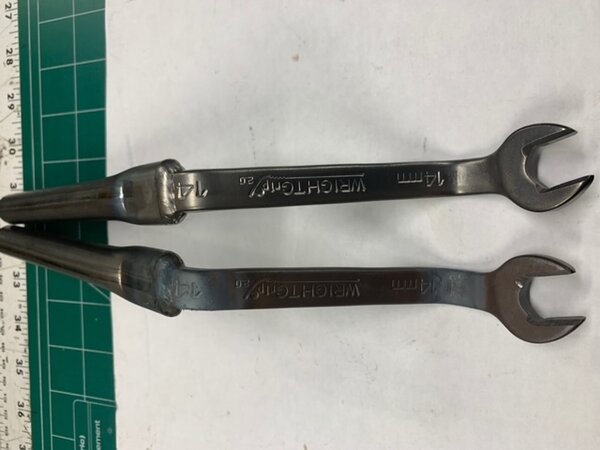 CONSTRUCTION: These are painstakingly made here in our own shop by hand. There is much fabrication, welding, and custom grinding that goes into making these wrenches the most popular Mercedes diesel valve tools made in the world. As of October 14, 2011, we are now shipping them with special tight-fitting rubberized grip handles. Note: They no longer have red handles.  Since they are hand made they will not look like Snap-On quality wrenches, but they do a better job than any factory wrench made.
COMPARISON: Other than the handles, there are two main differences between my wrenches and the German Hazet set. The Hazet wrenches are thin but the heads are also very wide, which can make it difficult to get the heads on the rear two-valve nut sets for adjustment. Their heads are also straight with no offset so your options for alignment in tight places are limited. What I've done with my wrenches is to offset one wrench head to the right and offset the other wrench head to the left. This will allow you to use either wrench on the top or bottom nut to get them into really tight spaces. The wrenches are extremely well balanced in your hands and the comfort I have designed into them greatly reduces fatigue.
SPECIAL NOTE: Some have asked about the third wrench which is recommended for working on difficult valves. The purpose of the third wrench is to hold the hex cap of the valve spring from rotating while you are adjusting the two nuts for valve clearance. From my experience, I have found that this third wrench can be rather cumbersome to use and is not really needed in most applications. Sometimes you'll have a stubborn valve that will want to spin while you are trying to turn the nuts. When this happens, you will need a way to keep the valve spring cap from rotating. I found another way to do this without the third wrench and it is simple to use. My holding method doesn't require a special tool and it is explained completely in the instructions which are included with these wrenches.
My valve wrench kit comes with a set of feeler gauges, a complete instruction booklet with layout guides, and a set of nitrile gloves. This is a must-have kit for any older diesel owner.
ALSO NEEDED: You will need to replace the valve cover gasket when you adjust your valves. Be sure and order a gasket or gasket set of 3 to have on hand for this job. To find these just type "valve cover gasket"  in the search box.
Our wrenches flat out just work better than the competition! They fit in where the German wrenches won't and our wrenches won't leave you exhausted and spitting nails! The picture below shows the older style before we started rubberizing the handles. 
When replacing your valve cover you may need wave washers (look below to order). backinstock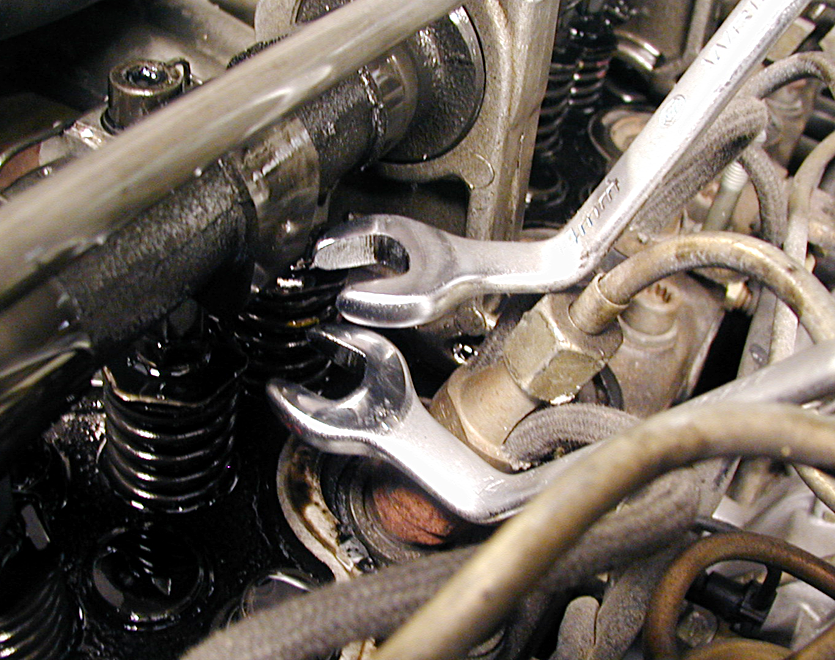 Related Products:
---