Failure of these hoses can lead to total destruction of your engine
Along with radiator neck failure, the rupture of one of the large oil cooler lines on your diesel engine can easily ruin your engine. When one of these lines goes you can lose all your engine oil in just a few minutes. If you are driving and not watching your oil pressure gauge you can destroy the engine bearings in short order.
Problem & Solution
Common among these chassis:
W116
W123
W126
Repairs most often mean an expensive engine overhaul. If you use your Mercedes as a daily driver and plan on keeping it for a long time, replace the oil cooler lines unless you have repair records that they already have been changed in the last 10 years. This is a painful job, but worth it for peace of mind.
Check out this additional informative video from Kent about the oil cooler hoses: 1978 to 1985 Turbo Diesel Mercedes Engine Oil Cooler Hoses Avail. at Mercedessource
Location and access:
The two oil cooler houses are located on the left side of the engine. They run from the forward side of the oil filter housing up to the left side of the radiator where a separate oil cooler is mounted. The lower hose always seems to be the first one to fail. In the first picture below you will see beginning evidence of a leak where the rubber part of the hose is swedged on to the metal neck. When you start seeing oil wettness at these fittings it is time to change the hose/s BEFORE they fail. Also look for v-belt wear in the rubber part of the hose near the power steering belt. If one hose is bad the other may not be far behind. Due to the difficultly and time involved to change them, I always recommend you change both.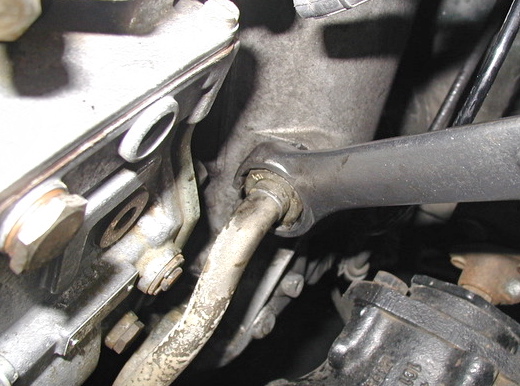 NOTE: You will need to remove these line fittings when you replace your leaking oil filter housing gasket or if you need to replace your oil filter housing.
Getting the hoses off and back on can be near impossible without the right wrenches. Kent has created two wrenches that make the job go much easier. In the video he will explain the access problems and how these wrenches can help. We offer the 116, late 123 and early 126 hoses, wrenches, and instructions to help you do this job yourself and possibly save your engine!