For 240D 300D 300CD 300TD 300SD 1974 to 1985 - Receive a Related Bonus-Product FREE!
Replacing your oil cooler lines/hoses is a very important maintenance item on your older Mercedes diesel. Getting them on and off though is a different matter! Over time and with lots of frustration, Kent has developed his own special custom wrench set to loosen and tighten the fittings, particularly on the oil filter housing and radiator oil cooler. Without this wrench, we can guarantee high levels of stress! Especially the lower one on the oil filter housing. These are machined and modified right here in our shop. If you are working on your oil cooler then we recommend you also have our thin head 22mm wrench. This can be purchased separately below:
616 617 Diesel Oil Cooler Line Removal Special 3 Wrench Set
$68.50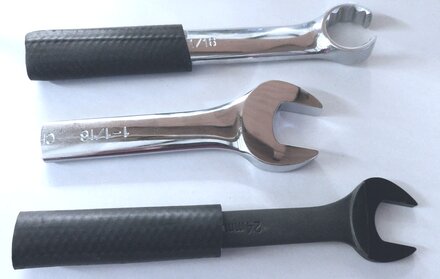 Product Details
Click on the arrow in the center of the picture above to watch another great use for this wrench set. This 3 wrench set will make your oil cooler, oil filter housing and oil cooler line replacement a whole lot easier! The long combination chrome wrench is used to tighten and loosen the fitting going into the oil filter housing. The open end is custom ground thin so you can get it on the fitting (it is a tight fit!) You will need this wrench to hold the fitting while removing a difficult oil cooler line nut.
NOTE: for those of you who purchased our former two-wrench set we do still offer the long thin wrench separately. Please see related products. 
The cut boxed end modified wrench with a special rubber handle allows you to loosen the hose fitting end nuts at the oil cooler housing and the oil cooler. The shorter stubby open end is used to quickly spin the nut on and off. Each wrench has been cut and/or modified here in our own shop and tested for quality control.
Here is the picture of the wrench in action on a 123 chassis 300D. Note how easy it is to slip the wrench over the big oil line in order to get a secure grasp of the nut!
To view a video on how these wrenches are used go to this link: (under construction)
Related Products:
---