Fits 300SD models 1978 to 1980 ONLY, 300D and 300CD 1982 to 1985, and 300TD Wagon 1981 to 1985.
Excellent used oil filter housing as shown. Does NOT include the cap, nuts and rod. Undamaged threads for both the oil pressure line and the oil cooler lines. This has the threaded fitting for the turbo oil line. If it takes a long time for your engine to build oil pressure after a cold start then this part may need replacing. This housing would work on the non-turbo but you would to use your side plate cover or you would have to use a short bolt to plug the threaded hole in this plate. You should get the gasket and instructions with this item.  CLICK HERE.
116 and 123 Chassis 617 Turbo Diesel Engine Oil Filter Housing ( Used )
$94.00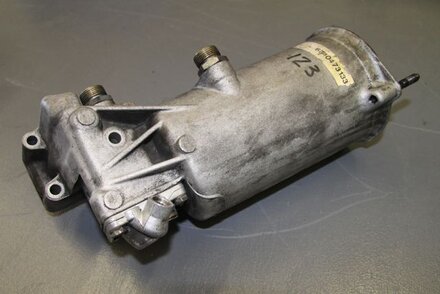 Product Details
Please note: This part will require some cleaning before installation. Removal and replacement of this housing will also be much easier with my special tool for getting the oil cooler lines off.  CLICK HERE.
DOES NOT FIT 126 CHASSIS 300SD FROM 1981 TO 1985.
Related Products:
---