Engine running cold or too hot - this usually fixes the problem!
Fits 115 116 123 and 126 chassis diesel engines, non turbo and turbo, to 1985. This includes the 220D, 240D, 300D 300TD wagon and 300D/300SD turbo engines. Most thermostats only last a few years and should be changed for optimal diesel performance.
115 116 123 126 Diesel Thermostat Installation Kit
$32.50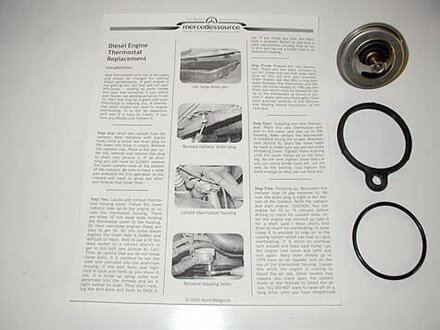 Product Details
If your engine is not getting hot, the fuel will not burn efficiently - leading to more smoke and poor fuel economy. If you notice your heater not getting as hot as it use to, then this may be a good clue your thermostat is wearing out. A thermostat stuck closed can lead to engine overheating. It is not an expensive part and it is easy to install. If you have any doubts just replace it.
This is a good job to start with if you are just learning to work on your own diesel. Our kit comes with a new high quality 80 degree Celsius thermostat and two seals that will cover all applications listed above. We include PDF complete detailed instructions for ease of installation and to help keep your car safe. If you are planning to change the thermostat check the condition of the short coolant hose right below the thermostat housing. We have the kit to help you replace this hose at the same time you do the thermostat. Look below.
_______________________________________________________________________________
How to view the PDF digital instructions:
Once you complete the purchase of this product you will be able to download the digital instructions immediately when you are logged in and on your personal account page (click on My Account). Any PDFs will show up under My PDF Manuals. You will be allowed three downloads, so please save the file on your machine for backup.
_______________________________________________________________________________
Related Products:
---