Fits turbo diesel 1978 to 1980 300SD and 1981 to 1985 300DT, 300CDT, 300TDT (Turbo Models Only)
This is a very important maintenance item for all 116 and 123 chassis 617 5 cylinder turbo diesel owners. When these belts get loose or worn they can cause all kinds of problems like poor battery charging, engine overheating, jerky power steering, and noises that range from squeaking to rattling.
116 123 Turbo Diesel Contitech V-Belt Set (4 Belts)
$39.95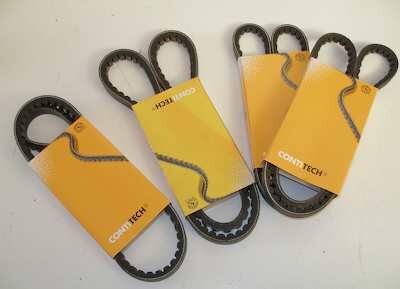 Product Details
It can even be worse if someone has installed aftermarket v-belts. Our experience has proven that anything less than Continental Belts is not acceptable nor will you be happy over the long haul. And we always recommend you install all four belts new at the same time with the correct OE Continental belts. We feel these are the best belts you can buy.
This set of belts is sold WITHOUT INSTRUCTIONS for those who already know how to remove and replace them. This is not an easy job if you have not done it before. If you would like instructions we recommend you purchase our illustrated step by step sourcelet look below to read more.
Related Products:
---