1978 to 1980 models - vin number 116.120 - from 000231- ALERT! only a few left, then gone forever! This is your only source WORLD WIDE for this part with a new tumbler installed- Steering locks have been Discontinued. Tumblers with keys are long gone!
We only have a few of these custom machined early 300SD steering locks left. LIMIT ONE per customer. We have been informed that there is no plan to manufacture new steering locks again for these classic old diesels
116 300SD NEW Steering Lock Assembly with Tumbler Installed, and 2 Keys - Manual Included.
$398.00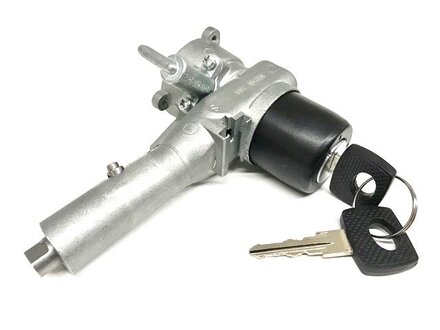 Product Details
This is the part you need when your ignition key starts to stick or is very hard to turn. Do not wait until you can not turn the key. You can be stranded and the repair may end up being very expensive if you take it to a shop. In over 50 percent of the cases involving a severely sticking key on the old models, we have found you need to replace both the tumbler AND the steering lock if you hope to have a lasting repair. They tend to wear each other out if the problem is not corrected early on. If you own one of these early 300SD's you have already found out that the tumbler and key can not be purchased anywhere. Not even from Mercedes Benz! We have a few of these left and sell as a complete assembly with 2 new keys. Sorry, we can not get keys to match your door locks. We are the last "source."
This unit Fits 116 CHASSIS 300SD from 1978 to 1980 after vin number listed in subtitle. Be sure and check your vin number BEFORE ordering. If you have a gas model 116 model please email us for information on the part you will need for your can. This is a brand new Ignition steering lock assembly with a new tumbler specially machined to fit properly. This is ready to install in your car. You will need to remove the instrument cluster to change out this part. See the cluster removal tools below.
PLEASE NOTE: ELECTRICAL SWITCH FOR BACK OF IGNITION LOCK IS NOT INCLUDED. If needed please order separately below:
BONUS: Instructions on removing the old lock assembly from your steering column will be included in this kit. You will receive Kent's manual on Steering Lock Removal and Replacement via PDF download. This guide will also explain how to get the steering lockout of your car even if the key won't turn or you lost your key.
NOTE TO VIEW PDF!!! You must be LOGGED in to your account at mercedessource. Click on my account to access download. 
Related Products:
---