No.1 Cause of rear end clunking over rough ground
Fits the Following: All 123 and 126 Chassis from 1977 to 1991 .
123 126 Rear Stabilizer Sway Bar Link Set (x2)- Easy Install
$21.50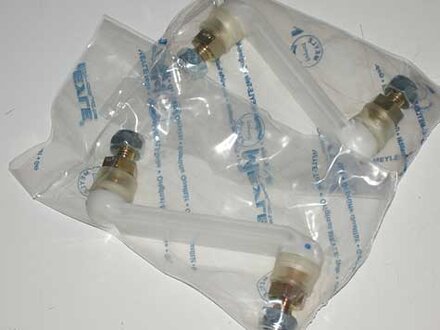 Product Details
These are the Rear stabilizer links, also known as Rear Sway Bar links. The connect from the Rear Torsion Bar to the Rear Axle. If your older Mercedes is clunking in the rear end this is probably the culprit! This is showing up as a very common wear problem on these models lately. Always replace in pairs, as they are probably both original equipment! No instructions are included by these are very straightforward and easy to install. High Quality replacement part by Meyle.
Old style were metal. Look for signs of rust around the joints (picture left below). Grab a hold of the link and attempt to move it up and down. If you feel any slack then it needs replacement. New style plastic are designed to last longer. The lower end of the link is screwed directly into a thread hole on the outer trailing arm (picture on right).