Replacement motor brushes and new yellow zinc screws included
These early "short style" electric fuel pumps are very prone to leaking fuel because the rubber case o-ring seals harden with age. New pumps are no longer available and rebuilt are VERY expensive!  If you risk buying a used one it will probably end up leaking or seeping fuel too. With the correct parts and instructions replacing the seals is something you can do yourself. Kent highly recommends you do this BEFORE the pump starts leaking. It will give you a chance to inspect the internals of the pump, clean the impeller, clean the filter screen and make sure the motor is running properly. Don't get stranded with a plugged filter screen or leaking fuel pump. While you have the pump apart you can even change the motor brushes if they are badly worn. Watch the video below as Kent explains what the pump looks like together and apart, what is included in the kit, and what other parts are available if your pump is totally shot. By watching the video about be sure to confirm this is the type you have in your 1963 to 1973 mechanically fuel-injected Mercedes. Early 230SL and 250SL had this pump. Most other models from 1967 on came equipped with the "short" pump. Other earlier models had a LONG STYLE pump and this kit WILL NOT work on those models.
1963 to 1973 Short Bosch MFI Electrical Fuel Pump Complete Resealing Kit
$76.50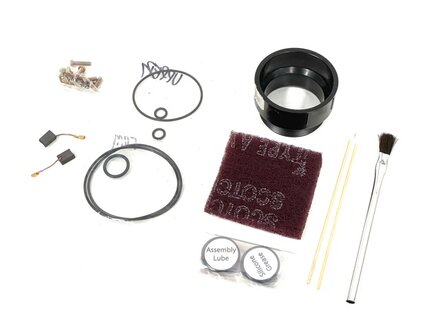 Product Details
The kit includes the 6 o-rings you will need to seal both the lower and upper (motor housing) sections of the pump. Kent adds some special cleaning and assembly supplies to help speed the overhaul process and guarantee success. As of March 2021 new brushes and hardware are included. This full kit includes the following:
New special grade nitrile seals x 3 for the lower section
New special Viton o-ring seals x 3 for the upper motor section
New set of custom motor brushes
Authentic flat slot yellow zinc screw set
O-ring assembly paste
Pump vane and motor shaft assembly lube
Cleaning acid brush
2 long handle low lint swabs
Black plastic holder 
Fine small Scotch Brite Pad
Complete video instructions x 2 consisting of a 50-minute video covering the lower section and a 28-minute video covering the upper section 
PLEASE NOTE: If the car has been sitting for a long period and the pump does not run, this kit MAY fix the problem. During periods of long storage the fuel gums up the pump drive vanes. Taking the lower section of the pump apart, cleaning out the varnish with carb cleaner, and installing this reseal kit will most likely solve the problem.
IMPORTANT: If the motor runs and stops it may indicate the brushes are worn out. If you are having other motor problems, you will need to take the pump COMPLETELY APART to access the motor and you will need all 6 o-rings to put it back together properly. Make sure to flush your fuel tank and inspect for rust. Dirty fuel will ruin your pump! We recommend you also replace the fuel hoses at the pump when you take it off. See related products before for this hose kit:
Related Products:
---