Low time. Very hard to find ones now that are even rebuildable. LAST ONE available. Critical for proper transmission shifts on 1980 to 1985 240D 300D 300CD 300TD - 1981 to 1985 300SD. Free video instructions included.
Not all units are rebuildable. These are no longer available new. This has been rebuilt and tested in our shop and is in good working condition. One of the best we have seen. You can tell by the color it is low time. When you put it on your particular diesel, it most likely will need to be adjusted. Two instructional videos are included. One to show you how to install it and adjust the linkage rod.  You will also receive a free on-demand video showing you how to test a VCV for proper operation. There could be a number of other vacuum-related issues that can cause hard or soft shifts. Troubleshooting diesel automatic shifting problems is thoroughly covered in my manual on 617 Transmission Tuning. You will also need a vacuum gauge and fittings. Do not mess with this unit until you understand how to adjust it properly. See related products for the manual and my  VCV test kit.
1980 to 1984 Diesel Transmission Vacuum Shifting Valve ( VCV ) - REBUILT
$348.00
Product Details
If you need instructions on further tuning and vacuum output adjustments,  you will need Kent's VCV adjusting kit that includes the needed vacuum gauge as well as a complete tuning manual on diesel automatics. This 120+ page manual will cover other shift-related topics as well. You will also need to make sure your diesel has a strong and leak-free vacuum system for this valve to work properly. Check out Kent's Vacuum Source Troubleshooting manual.  Please refer to related products for additional help.
This is the proportional valve for controlling the vacuum to your transmission for proper shifts. This plastic unit was used on 123 and 126 chassis turbo and non-turbo diesel from 1980-1984. Kent rebuilt this unit himself using special cleaners and new seals. The unit you will purchase here has been tested on the bench as well as adjusted on the car.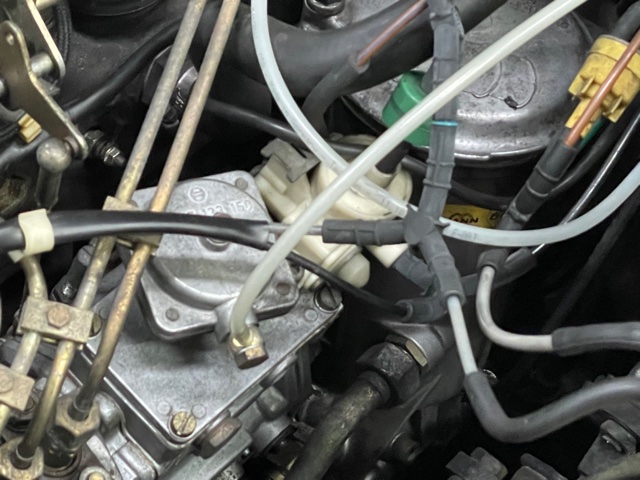 IMPORTANT: PLEASE READ. Many are confused about how to test a VCV valve. This comes from not fully understanding the purpose of the valve or how it works. Unlike most vacuum-related components ( such as an EGR valve it is not supposed to "hold vacuum." Rather it is specifically designed to leak vacuum at a controlled rate.  It is really a leak down or "bleed off" valve to reduce vacuum to the transmission during shifting. 
 It is also important to take into account that there are adjustments that may need to be made to the transmission in order to get the vacuum valve working properly in the system. In many cases, you will not just be able to install this on your car and expect it to work at peak performance unless you test your vacuum system and vacuum modulator to make certain those are working properly as well. 
This will not fit 1978 to 1980 W116 300SD. Those VCVs had a straight arm. See related products below:
Related Products:
---