For 420SEL, 560SEL, 560SEC and 560SL - Complete Kit with detailed video DIY instructions
Many of these particular big V8 models are now becoming true collector cars and going up in value at a steady rate. ( especially the 560SEC and 560SL) Most of their fuel injection delivery  (FID) systems are old and tired and have not been properly maintained. Kent has yet to see one of these cars where the complete system has been redone. He has seen pumps and filters changed, but it seems the fuel hoses are often overlooked. Ruptured fuel hoses are a real fire hazard. When this system starts to wear out you will have numerous engine performance problems due to poor and or / erratic fuel flow and pressure delivery to the engine. In the video below Kent will show you what's involved in doing this yourself and what the final results will look like. 
1986 to 1991 R107 and W126 V8 Twin Pump Fuel Delivery Overhaul Kit
$496.00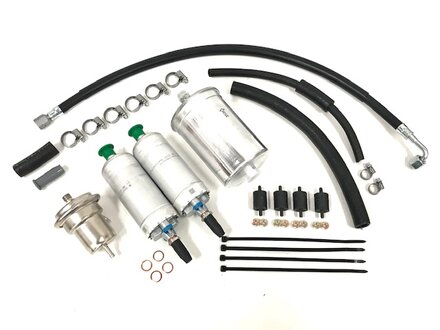 Product Details
These cars deserve the best parts and the best maintenance. We don't skimp on this kit to make it appear "cheap." We provide you will all the key quality components - both Bosch fuel pumps, new German Filter, and aftermarket accumulator. This is the best and most complete fuel delivery overhaul kit you will find anywhere in the World!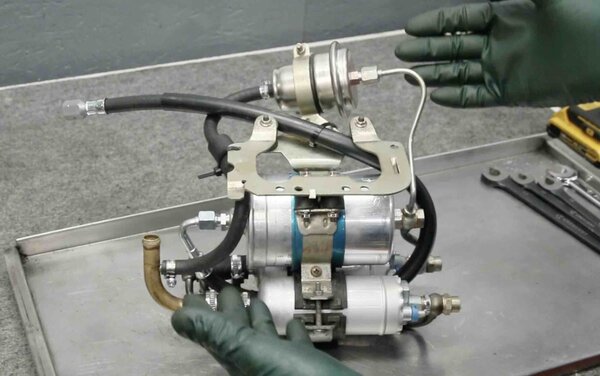 The full kit includes the following:
2 new Bosch fuel pumps
New German fuel filter
New accumulator
New long factory feed hose from the filter outlet to line going to the engine
Large special fuel hose and clamp to make your own tank outlet hose
All fuel hoses and hose clamps as shown
Copper washers for banjo fittings
4 new rubber shock mounts with locking 5mm nuts
Video instructions by Kent x 2
You will receive two on-demand videos that will be placed in your account to view online. One will cover general principles on how to drain the fuel out of your fuel tank. The other video will cover remove of the FID from your car, rebuilding it on the bench, and putting it safely and correctly back into your car. Keep in mind the kit does not include the "original replacement" tank outlet hose. You will be able to make your own from the hose, clamp, and instructions included in the video concerning making your own tank outlet hose. 
There are some additional things you should consider if you plan on doing this job: If you suspect your fuel tank is "dirty," best you remove the fuel tank screen and drain the tank. Contaminated fuel is the number one reason for early fuel pump failure. The tank screen requires a special took to remove it while the fuel tank is still in the car. See related products to purchase the tool and filter screen separately. 
Related Products:
---