Requires removal of intake manifold to replace.
Set of 5 High Quality German made Monark Glow Plugs complete with a detailed Glow plug removal and replacement manual written by Kent Bergsma. Last known glow plugs to be still manufactured in Germany. Fits 124 chassis 300D 2.5 from 1990 to 1993, and 1989 190D 2.5 ONLY. Many who own these cars complain they don't even know where the glow plugs are and are worried they could never replace them on their own. A shop will charge you a lot of money to do this job. It is time consuming but not rocket science. You have to remove the intake manifold on this engine to get the plugs replaced. My step by step illustrated manual with take you completely through the correct process. Glow plugs even come with new locking nuts.
1990 to 1993 300D 2.5 and 1989 190D 2.5 Monark Glow Plugs - Set of 5 with GLOW PLUG REMOVAL manual
$64.50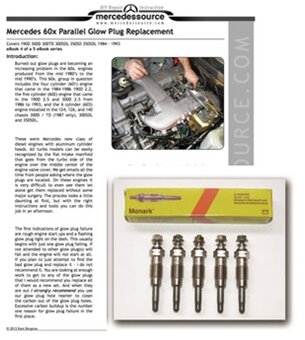 Product Details
To complete successfully you will need a new intake manifold gasket. Look below to order.
I also recommend if you are going to the trouble to change the glow plugs be sure and ream out the carbon in the pre-chambers. Excess carbon is the number one reason for glow plug burn out. Look below to order my custom made all steel glow reamer.
Kent highly recommends:
Mercedes Anti-Seize Compound for Use on Critical Threads. You don't need much - sold here in small air tight container
Anti-seize compound is an amazing product that can prevent frustrating and damaging thread seizure. Good quality copper based anti-seize is not particularly cheap and when you buy it in a larger tube or container it may take years to use it all... in fact you may never use it all. Since you only need a very small film on the threads the average DIY mechanic does not need very much on hand. We offer it in a air tight seal 1/2 ounce clear container with a screw lid and we only fill it half full! You may even find 1/4 ounce ends up being a lot!.
Related Products:
---