A must have to increase glow plug performance and extend life
PENCIL GLOW PLUGS ONLY!! WILL NOT WORK ON MODELS WITH THE OLD STYLE LARGE THREAD SERIES TYPE. For 1978 to 85 300SD Turbos / 1980 to 93 240D / 300D 300TD 300CD 190D 300SD 300SDL 350SDL. When was the last time your glow plug chambers were reamed out? Cleaning out your glow plug holes from excess carbon (coke) can increase fuel economy and will extend the life of your glow plugs. This important regular maintenance procedure is commonly neglected and can lead to rough starts, smoke at startup, decreased fuel economy, and engine shake. Higher mileage engines should be reamed every 30,000 miles. Yearly cleaning is a must if you are running WVO / SVO.
Heavy Duty Carbon Reamer for Pencil Glow Plug Chambers
$39.75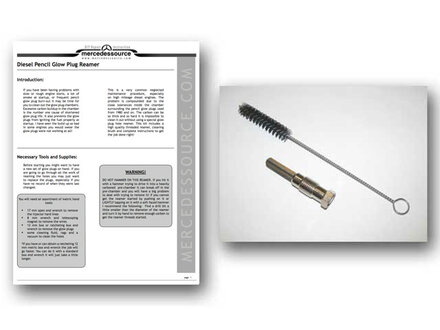 Product Details
This reamer works better than any other available on the market. I am so excited about my new reamer that I want every Mercedes applicable diesel owner to have one in their tool box. After spending years reaming out carbon from pencil glow plug holes I finally decided it was time to develop a better reamer than what is currently on the market. The Mercedes factory reamer is a well made steel unit from Germany but is mounted on a universal joint and is cumbersome and floppy to use on most Mercedes diesel engines. You end up paying $85 to $100 for this factory reamer for a feature that is very seldom needed or used. The other common glow plug reamer on the market is housed in aluminum stock and they do not hold up well over time. I have seen problems with the soft aluminum heads and threads deteriorating with heavy use. It is often necessary to tap on the reamer to get it started in the glow plug hole. Aluminum stock is not well suited for this task.
I knew there had to be a way to build a better reamer at a better price. Because of these issues you can see why I went to work and engineered this new tool. I am proud to offer the following key features :
This reamer incorporates a positive stop that comes to rest on the original seat of the factory glow plug. This will prevent you from driving the reamer in too far as well as making sure that the reamer has gone in far enough. Most other reamers do not have this feature.
Better cutting straight flutted reamer. This flutes are deeper on our reamer which helps to hold the carbon in the flutes rather than pushing it back into the glow chamber.
Instead of an aluminum threaded housing we use a steel housing that meets original glow plug specifications. This means you are less likely to cross thread the reamer and the threads hold up better because they are steel.
Easy to access 12 mm hex head to drive the reamer into the hole. Because the head is steel it will allow you to tap on it without damage to the head.
If you have one of these aluminum reamers just say goodbye to it today! Just say no to aluminum!
_________________________________________________________________________
How to view the PDF digital instructions:
Once you complete the purchase of this product you will be able to download the digital instructions immediately when you are logged in and on your personal account page (click on My Account). Any PDFs will show up under My PDF Manuals. You will be allowed three downloads, so please save the file on your machine for backup.
__________________________________________________________________________
Our new reamer comes with a proper size / material cleaning brush and PDF instructions on how to properly remove your glow plugs AND use this reamer on the following models: 1980-1985 617 and 617 diesel engine with cast iron cylinder heads. This includes 1978 to 1980 300SD, 1980 to 1983 240D, 1980 to 1985 300D/300CD/300TD and 1981 to 1985 300SD.
This reamer can also be used on the newer 6 OX diesels in the 1984 to 1989 190D, 1987 300D and 300TD, 1986 and 1987 300SD, and 1990 to 1993 300D 2.5. INSTRUCTIONS FOR THESE NEWER DIESELS IS NOT INCLUDED due to difficulty of removing glow plugs in these engines. If you don't know how to get your glow plugs out then I recommend you purchase my glow plug manual for these cars. This guide shows you how to remove the glow plugs for cleaning. Look below to order this booklet. This reamer DOES NOT work with older series style looped end glow plugs
PERFORMANCE: This tool and procedure can improve cold engine starts, reduce shaking and missing at start-up and reduce engine smoke on those cold mornings. THE NUMBER ONE REASON FOR PREMATURE GLOW PLUG FAILURE IS EXCESS CARBON BUILDUP IN THE CHAMBER! Almost every old diesel needs to have this done and the sooner the better! I guarantee that you will be very pleased with how this reamer performs - especially if you have used other reamers in the past.
SPECIAL WRENCH: Available separately
This modified 12 mm wrench will allow you to PUSH in on the reamer while turning - and let me tell you - this is needed when you have heavy carbon buildup in the prechambers. Kent modifies the wrenches here in our own shop. The welded tab prevents the box end from falling through the hex nut on the reamer. Look below to order.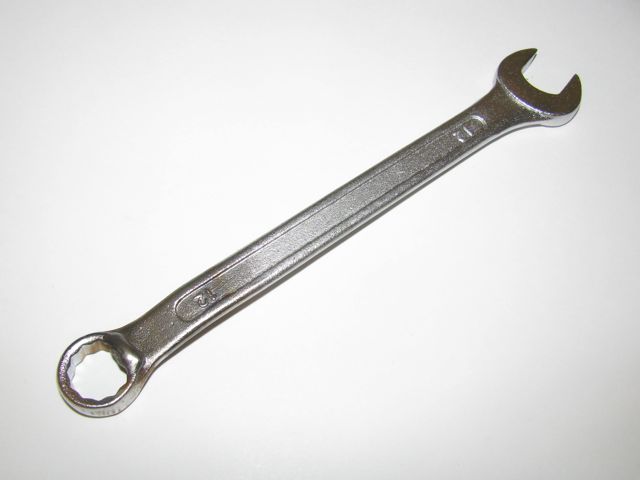 Note how the carbon stays in the deep flutes of this reamer while cleaning.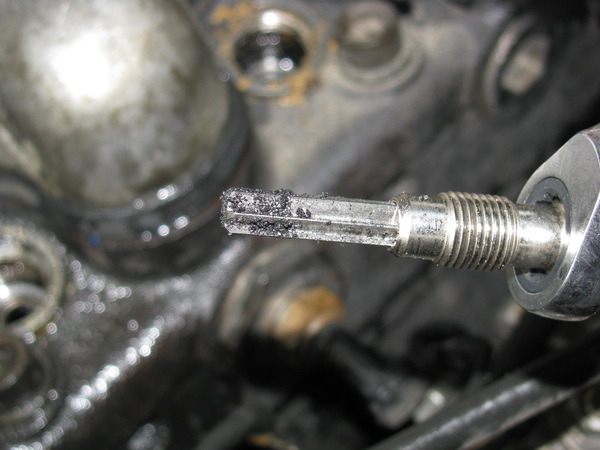 Money Saving Kits available with glow plugs included: We also offer a number of service kits that include this reamer and a set of glow plugs for your specific engine. Enter "Reamer" in the search box for all kits containing the reamer and plugs.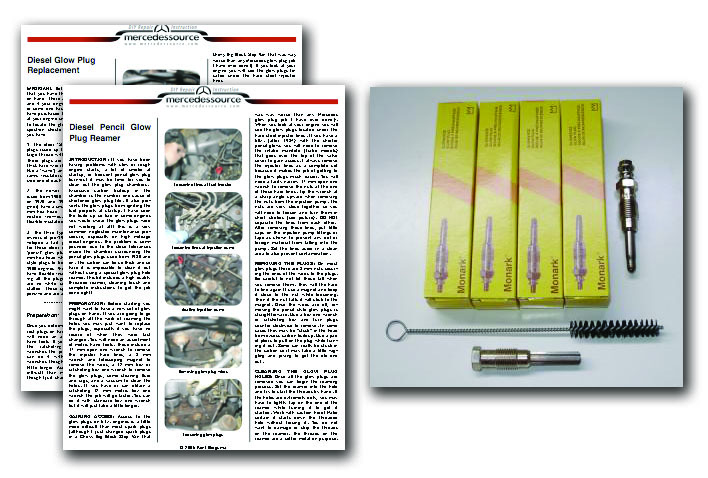 Related Products:
---