For rear suspension on 190E 190D 260E 300E 300CE 300TE etc.
The Mercedes Multi-Link rear end is a marvel of engineering and works extremely well, but when one or more of the link bushings wear out, your car will start steering on its own! In severe cases when applying rapid power it may act like it wants to change lanes on you. This problem is becoming more common as these cars age and seems to be showing up more in the rust belt (where salt is used on the roads). In some cases you may only need to replace one link. In other cases it may be difficult which one is the culprit or you may have multiple worn bushings. Our kit will allow you to replace all the link bars with new bushings installed.
201 124 Chassis Rear End Control Arm Link Overhaul Kit - made by Meyle
$229.00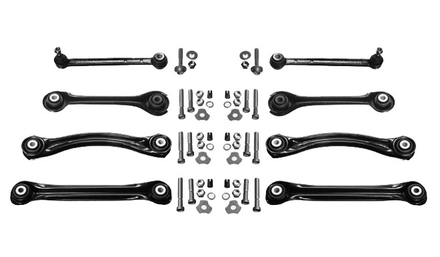 Product Details
This kit fits all 201 chassis from 1984 to 1993 and all 124 chassis sedans, coupes and wagons from 1986 to 1995. It contains two upper front arms, two upper rear arms, 2 lower front arms and two center arms with ball joints on one end. All new hardware is included. There is considerable savings when you buy the entire kit.